Ross Memorial Hospital
Delivering on the promise of a better healthcare experience
Located in the heart of the City of Kawartha Lakes, Ross Memorial Hospital is an active, acute-care community hospital serving more than a combined 100,000 local residents and seasonal visitors.
Among our acute and continuing care services, our team operates a 24/7/365 emergency department, a 15-station dialysis unit, provides orthopaedics, ophthalmology and general surgery, restorative seniors care, rehabilitation and palliative care, and mental health programs. The most recent expansion included the addition of an MRI service, allowing for a full range of diagnostic imaging.
RMH is part of Home and Community Care Support Services - Central East. The closest neighbouring hospitals include Peterborough Regional Health Centre 45 minutes to the east, Haliburton Highlands Health Services one hour to the north, and Lakeridge Health in Oshawa, one hour to the south west. RMH is the only hospital in the City of Kawartha Lakes, a "cottage country" municipality of 3,000 sq. km located an hour-and-a-half north east of Toronto.
In 2019, the hospital received full accreditation with exemplary standing by Accreditation Canada, having met 99.6 per cent of the industry's international standards of excellence. The Ross family takes pride in providing compassionate, quality patient care.
Ross Memorial Hospital is located on the traditional territory of the Michi Saagiig in the territory covered by the Williams Treaty. We acknowledge the long history of First Nations, Metis and Inuit peoples in what is now called Ontario, and we recognize the heritage of local First Nation communities.
Notice of BORN Ontario Cybersecurity Incident: https://www.bornincident.ca/press-release/
Governance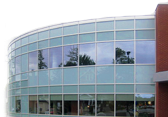 Learn more about our strategic objectives and how we achieve Exceptional Care - Together