Physician Opportunities
The following positions are currently available at the Ross Memorial Hospital:
Anesthetist
The Department of Anesthesia is seeking an anesthetist to join a group of collegial members for their program. The successful applicant will be certified or eligible for certification in Ontario. At the Ross Memorial Hospital, we perform general surgery, obstetrics and gynecology, and orthopedic procedures. We have recently been recognized as a site for the Northeast CE LHIN cluster for orthopedic cases.
General Internists
The Ross Memorial Hospital is seeking internists with an interest and/or experience in ICU Medicine. On your day of call, you will cover the medical patients of the six-bed Intensive Care Unit; respond to consults from the inpatient units, and consults from the Emergency Department. The Ross Memorial Hospital provides quality patient care in a supportive environment.
Hospitalists
Weekend positions
We are seeking physicians to be part of a hospitalist program to provide comprehensive care from admission to discharge for inpatients. Successful candidates have internal medicine skills, strong family practice skills, experience managing inpatients, a current licence to practice in Ontario, ACLS, and must be comfortable working in a hospital environment. Additional training in Hospitalist medicine would be favourably considered.
To join our caring team, please contact:
Dr. A.E. Lauwers, Chief of Staff
Ross Memorial Hospital
10 Angelline Street North, Lindsay ON K9V 4M8

tel: (705) 328-6115
email: recruitment@rmh.org

A great career and healthy lifestyle are both here at Ross Memorial Hospital!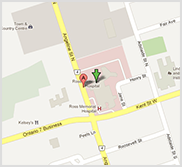 Maps
10 Angeline St. North
Lindsay, ON K9V 4M8
Directions
Floorplans
@RossMemorial
Follow us and stay up to date on news, events and health related issues: