Physician Opportunities
The following positions are currently available at the Ross Memorial Hospital:
GP Obstetrics
Seven day locums available for GP/OB (1 week in 4 or more). Locum dates are negotiable. Please contact Dr. Bharat Chawla, Chief of Staff for additional information regarding duties required and compensation.
7 Day Hospitalist and Weekend Hospitalists
RMH is recruiting for a 7-day Hospitalist. The successful applicant will have recent experience in the care of hospitalized inpatients. Family physician or internal medicine backgrounds are welcome. The physician will assume the care of a mixture of acute and post-acute patients on a Monday or Tuesday morning and will follow through the 7 day period. One weeknight of call is required, with other weeknights being free after 5 pm. The physician will be on-call after hours at the weekend for their own list of patients.
Our Hospitalist program is a mature program, with five hospitalists present daily during the week and four at weekends. The Hospitalist department is a supportive and collegial group of physicians dedicated to high-quality patient care and ongoing quality improvement.
For physicians looking for a hybrid mix of work in the region, there are opportunities for community family practice, as well as GP obstetrics.
Payment is through a combination of FFS billings and a stipend.
The hospital is supported by specialists in internal medicine, gastroenterology, general surgery, orthopedics, obstetrics and anesthesia. MRI, CT and nuclear medicine services are all available on-site.
For further information, please contact the Medical Staff Office at Ross Memorial Hospital (denisee@rmh.org).
The City of Kawartha Lakes, located 90 minutes from Toronto, is the rural paradise of south-central Ontario. Encompassing the communities of Bobcaygeon, Coboconk, Fenelon Falls, Kirkfield, Lindsay (the largest urban centre), Omemee and Woodville, the city boasts both small town charm and cottage country beauty. With over 250 lakes and rivers in the area, as well as links to the Trent-Severn Waterway, the City of Kawartha Lakes is a well-established tourist area with a myriad of year-round recreational activities. Complimentary to these are a variety of cultural amenities including The Lindsay Gallery and The Academy Theatre, Kawartha Settlers' Village and the Lakeview Arts Barn. The City of Kawartha Lakes offers a variety of educational opportunities with a public and separate school system including French Immersion and International Baccalaureate programs.
The Ross Memorial Hospital is an accredited 176 bed community hospital that meets the needs of over 80,000 people. A blend of primary and secondary services are provided by a group of family physicians and specialists to address the complex needs of our community. A core of general surgeons, orthopedic surgeons, ophthalmologists, and obstetricians support a broad range of surgical services. These surgical services are supported by a blend of FRCP and GP Anesthetists. A team of internists support a 24/7 ICU and consultation services including a full range of cardiology, GI diagnostic testing, respirology, and endocrinology. Emergency medicine is provided for over 45,000 visits per year on a 24/7 basis. A state-of-the-art Diagnostic Imaging service is supported by on-site and off-site radiologists, allowing us to maintain 24/7 CT and MRI services. Specific patient needs are supported by an inpatient rehabilitation service, a palliative care unit, an outpatient dialysis unit, and chronic complex care capability.
To join our caring team, please contact:
Dr. Bharat Chawla, Chief of Staff
Ross Memorial Hospital
10 Angelline Street North, Lindsay ON K9V 4M8

tel: (705) 328-6115
email: recruitment@rmh.org

A great career and healthy lifestyle are both here at Ross Memorial Hospital!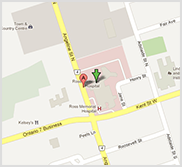 Maps
10 Angeline St. North
Lindsay, ON K9V 4M8
Directions
Floorplans
@RossMemorial
Follow us and stay up to date on news, events and health related issues: