Compliments and Concerns
Ross Memorial Hospital is committed to providing an exceptional experience for our patients and their families. We welcome your compliments, concerns or suggestions for improvement and encourage you to be involved in your care.
What To Do If You Have A Concern
If you have a concern, please speak directly to your physician or care team member or ask to speak with the unit manager. The Quality and Patient Safety Office is also available to you for assistance in resolving any complaints.
The Manager of Quality and Patient Safety will support you through your experience at the hospital and assist you with questions or concerns. Whether you have a complaint, a suggestion or a compliment, we'd like to hear your feedback. Our goal is to improve safety and quality of care at Ross Memorial Hospital.
When To Contact Quality and Patient Safety Office
When you want to give us your ideas or suggestions
When you want to know more about your rights
When you have concerns, or grievances, about services or interactions with RMH staff or physicians.
What We Can Do For You and Your Family
Listen and be supportive
Explain how things work and what you can expect from the hospital and the doctors
Help everyone communicate better with each other – your family members, our staff and our doctors
Respond to your concerns and help to sort out issues and problems
Work with you and members of your health care team to help you understand your options and choose your next steps
Ensure your feedback is shared with your health care team
Contact
Mindy Young, Quality and Patient Safety (Patient Relations)
705-324-6111 ext 8988 quality@rmh.org
Are you interested in becoming a Patient & Family Experience Partner?
This year, the Hospital is hoping to grow its ranks of volunteers by recruiting people for an important task: Patient and Family Experience Partners (PEP). These volunteers will act as advisors to the Hospital Team and provide input to help decision-making when changes are underway.
Patients and their loved ones have a unique perspective of the care and service they receive during their hospital stay. That perspective is invaluable whether the experience was a positive one – or not. What would have made their stay more comfortable? What information would have been helpful? If they had to go through it again, what would they do differently – or wish the Hospital did differently?
These insights are helping the Ross Memorial to improve the way it delivers care, every day.
The Hospital currently has Patient and Family Experience Partners on several committees, including the Medical Assistance in Dying Steering Committee, and the Better Together Patient and Family Engagement Committee.
Each patient care program at the Ross intends to recruit a Patient and Family Experience Partner over the next year to participate in improvement projects. Involvement may include having a long-term presence on committees, or it could be a short-term commitment involving the completion of surveys or the review of Hospital information to be sure it is clear and reader-friendly.
Those interested may apply by completing the Patient Experience Partner Application.You must also complete the Patient Experience Partner Reference Form.
Submit the completed application forms to the RMH Auxiliary's Director of Volunteer Services via the Information Desk in the Hospital's main lobby, or email them to patientexperience@rmh.org.
Patient and Family Experience Partners will go through an interview process, including criminal record check, and orientation to understand Hospital policies, such as the promise to protect patient privacy. PEPs must have been patients, or family members of patients, within the last five years.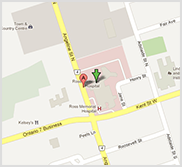 Maps
10 Angeline St. North
Lindsay, ON K9V 4M8
Directions
Floorplans
@RossMemorial
Follow us and stay up to date on news, events and health related issues: