Diabetes Education & Management
We Provide:
Individual appointments
Group education sessions about living with and managing diabetes with an introduction to diabetes, carbohydrate counting, heart health, health maintenance
Satellite services in Fenelon Falls, Bobcaygeon, Kinmount, Omemee and Little Britain. Contact us to see when we're in your community.
Our team, comprised of Certified Diabetes Educators, includes nurses and dietitians who will provide you with the knowledge, confidence and tools to improve your self-management skills.

Hours of Operation: Monday to Friday from 8:00am to 5:30pm. Evening appointments and classes can be arranged.
What you need to know
Who can participate?
All adults with diabetes, pre-diabetes and diabetes in pregnancy
Newly diagnosed or those who are interested in updating their knowledge about diabetes
Those who need to be started on insulin by physician's prescription
Those interested in insulin pump therapy

How do I register?
You can register through the Centralized Diabetes Intake using the online Self Referral Form or call the toll free number 1-888-997-9996. Services are free of charge. 
You may also receive additional services from the Central East CCAC services and can be linked to:
Community Support Services
Health Care Connect (helps people who are without a family healthcare provider)
Central East LHIN Self-Management Program
What education classes are offered?
All clients have access to the Health First Learning Opportunities. Click here to return to Health First home page for Learning Opportunities.
What should I bring with me to my appointment?
Red Hospital Card
Reading glasses, hearing aid if needed
ALL medications in their original bottles, prescribed and over-the-counter, including herbals and vitamins
Blood glucose meter, if testing, and your log book
Insulin supplies, if you are taking insulin
Friend or family to accompany and support you
Where is it located?
The Diabetes Centre is located at Ross Memorial Hospital, on the third floor entering off Kent Street. Take the BLUE elevators to the third floor, turn right off the elevator, and then turn left into the Health First Unit.
Map to the Health First Unit from the Main Entrance
Phone: (705) 328-6091
Fax: (705) 328-6202
Where can I get more information on Diabetes?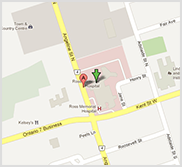 Maps
10 Angeline St. North
Lindsay, ON K9V 4M8
Directions
Floorplans
@RossMemorial
Follow us and stay up to date on news, events and health related issues: