Working Environment
Ross Memorial Hospital is about heart and will - lives saved and lives changed through the extraordinary people who make the Ross more than just a hospital.

Ross Memorial is about exceptional quality care and the people who provide the care - the staff and physicians who time and again go above and beyond.
Several opportunities exist in various departments for individuals who share our commitment to excellence in everything they do.
Please visit our Internal Job Posting and Public Job Posting pages respectively.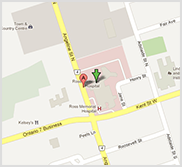 Maps
10 Angeline St. North
Lindsay, ON K9V 4M8
Directions
Floorplans
@RossMemorial
Follow us and stay up to date on news, events and health related issues: