Diagnostic Imaging
The Diagnostic Imaging Department is located on the 1st floor of the Hospital. For general inquires, the department can be reached at 705-328-6110 or by fax at 705-328-7315.
A physician referral is required for all Diagnostic Imaging examinations (except for qualifying patients with OBSP). Patients must bring both a Health Card and a red Ross Memorial Hospital card. If your red hospital card is not current, please arrive at least 15 minutes early and go to the Admitting Department first.
The Diagnostic Imaging Department at Ross Memorial Hospital is a state-of-the-art digital radiology department and has recently undergone a major redevelopment including the addition of MRI service and the replacement of the 4-slice CT scanner with a 128-slice model.
The DI Department currently performs approximately 75,000 exams each year.
The Diagnostic Imaging Team consists of highly trained individuals who provide exceptional care to all patients. The core Team members are:
Radiologists – physicians specialized in image interpretation

Medical Radiation Technologists (Radiography) – licensed by the College of Medical Radiation Technologists of Ontario, trained to perform examinations in General Radiography, CT and/or Mammography

Sonographers – certified by the Canadian Association of Registered Diagnostic Ultrasound Professionals, trained to perform Ultrasound and/or Echocardiography examinations

Large number of support staff including clerical staff and transcriptionists
RMH utilizes a Picture Archiving and Communication System (PACS) and is integrated with the provincial data image repository (HDIRS) and the Emergency Neurosurgery Image Transfer
System (ENITS). ENITS enables ER physicians to send CT images to on-call neurosurgeons for assessment when a patient presents with head trauma. By looking at the images online, the neurosurgeon can assess the patient's condition and determine whether the patient should be transferred or whether his or her care can be managed at RMH.
The entire DI department was redeveloped in 2010/2011, updating an area that was constructed 35 years ago. The space was redesigned with a central reception area and improved patient traffic flow. The redevelopment, plus the purchase of the MRI and 128-slice CT scanner, cost $5.8 million, which is being funded 100% by public donations through the "Imagine the Future" capital campaign.
This new technology has significantly enhanced diagnostic capabilities at RMH, and has allowed the hospital to add MRI mammography and Cardiac CT Angiography to the arsenal of tools available to physicians as they diagnose and treat over 43,000 emergency patients and over 6000 inpatients each year.
Patients requiring breast imaging and assessment are benefitting from two significant developments that took place in late 2011. Thanks to the fundraising support of the Dragon Flies Breast Cancer Survivor Group, the hospital was able to purchase specialized breast imaging software that works with the community's new MRI. On October 21st, the Dragon Flies donated $31,250 to be directed toward the purchase of enhanced visualization software and a biopsy console.
This acquisition played a key role in the hospital's successful application to become an accredited Breast Assessment Centre, affiliated with Cancer Care Ontario. Becoming a Breast Assessment Centre brings advantages and services not otherwise available at RMH and will significantly improve timeliness in diagnosis of breast abnormalities, earlier treatment, and increased patient compliance for follow-up care.
A key component of this improved service is the new Breast Health Navigator role. The Breast Health Navigator will coordinate the sequence of events from a patient's abnormal screening through diagnosis and referrals, as well as education, counseling, consulting and monitoring.
In December 2011, the hospital joined Cancer Care Ontario's High Risk Breast Screening Program, which promotes a comprehensive breast care program for patients whose family history or genetics put them at a higher risk for developing breast cancer.
Physicians may download DI referral forms here:
Cardiac CT Angiogram Requisition Form
Xray / Ultrasound Requisition Form
Echocardiography Requisition Form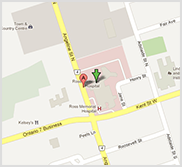 Maps
10 Angeline St. North
Lindsay, ON K9V 4M8
Directions
Floorplans
@RossMemorial
Follow us and stay up to date on news, events and health related issues: