Patient & Visitor Handbook
Welcome to the Ross Memorial Hospital
"At RMH, we understand that people rarely want to come to a hospital. When you or a loved one is sick or injured, you just want to get well and go home.
It's our goal to make your hospital visit as comfortable, safe and positive as possible. Our team is committed to providing exceptional care, and ensuring your transition back home is well coordinated with our community partners.
You are the most important person on the healthcare team. You have the right to be well informed about your condition and treatment plan, ask questions of your doctors and other health care professionals, and participate in treatment decisions.
We hope the information in this handbook will help to answer some of your questions and relieve your anxiety. The Ross Memorial is your hospital. We want you to be proud of it."
~ Dr. Bert Lauwers, President & CEO, Ross Memorial Hospital
About us
Located in the heart of the City of Kawartha Lakes, Ross Memorial Hospital is an active, acute-care community hospital serving more than 80,000 local residents and seasonal visitors. Among our acute and continuing care services, our team cares for 45,000 patients per year in the 24/7/365 emergency department, provides orthopedics and ophthalmology, operates a dialysis unit, and is renowned for its mental health programs and restorative seniors care. The most recent expansion included the addition of MRI and Cardiac CT service. The Ross Family takes pride in providing compassionate, quality patient care.
Exceptional Care – Together
RMH strives to be an exceptional community hospital, valued by our patients and partners. We provide acute and continuing care, inspired by our patients and families, within a team that is committed to:
Improving health by anticipating and responding to the health needs of the community
Collaborating with our health service partners, both in our community and beyond
Promoting a progressive and healthy work environment
In this, we are guided by our values: compassion, respect, excellence and integrity.
Our Patient Bill of Rights
Click here to read our Patient Bill of Rights
General Information
Information desk
Located just inside the main entrance, the information desk is staffed by volunteers who are available to assist with directions, escort patients, and help visitors locate a patient. To reach the information desk directly by phone, call 705-324-6111 ext 4531.
Telephone numbers
The hospital's phone system is equipped with voice recognition, so if you say the name or department you're trying to reach, you'll be connected. Otherwise, all employees, services and departments of the hospital can be reached through the Switchboard Operator. Patients at the hospital who have paid for telephone service will have an extension. They can also be reached via the hospital's switchboard. Patient telephones are not equipped to take messages.
Frequently Called Numbers:
Switchboard ...................................................705-324-6111 and dial '0'
Admitting .........................................................705-324-6111 ext 4240
Cashier's Office ..............................................705-324-6111 ext 4229
Gift Shop .........................................................705-324-6111 ext 4242
Patients (with telephone service) .............call 705-324-6111 and enter extension
RMH Foundation ..............................................705-328-6146
Volunteer Services (Auxillary) .........................705-324-6111 ext 4530
Diagnostic Imaging ...........................................705-324-6110 (and select option)
Website: www.rmh.org
General e-mail: publicrelations@rmh.org
Patient e-mail: tlc@rmh.org
Hospital Address:
Ross Memorial Hospital
10 Angeline St. North
Lindsay, ON K9V 4M8
Hand Washing
Good hand hygiene is the single most important way for all staff, patients and visitors to control the spread of germs. Regular hand washing with alcohol-based hand rub or with soap and water decreases hospital-acquired infections by 20 to 40 per cent.
While at RMH, you can expect that health care providers will wash their hands. You are welcome to ask your care provider to let you see them wash their hands.
Please clean your hands:
When you enter or exit the hospital
Before and after contact with a patient
Before and after eating and drinking
After using the restroom
After covering a cough or a sneeze
To effectively wash your hands with alcohol rub:
Remove hand and arm jewellery
Apply 1-2 pumps of alcohol rub (an amount the size of a loonie) into one hand
Spread the alcohol rub over your hands and continue rubbing for at least 15 seconds
If using soap and water:
Wet your hands
Use enough soap to lather thoroughly, and continue washing for at least 20 seconds
Thoroughly rinse the soap from your hands
Dry hands thoroughly by blotting them gently with a paper towel
Turn off taps with paper towel in order to avoid picking up germs left by dirty hands
Whichever method you use, pay special attention to:
your finger tips
the area between your fingers
the backs of your hands
the base of the thumbs
If you have a cut, rash or cracked skin, or wear jewellery, nails longer than 3-4 mm (1/4 inch), nail polish or artificial nails, it can be very difficult to clean your hands properly. For more information, talk to a doctor or nurse.
Respect & Privacy
Mutual Respect
At Ross Memorial Hospital, we work hard to ensure that patients, visitors and staff enjoy an environment free of harassment and discrimination. Physical or verbal abuse of staff, patients, family members or visitors will not be tolerated. Any person who verbally or physically threatens or attacks another person, or harms RMH property may be reported to the police.
Protecting Your Privacy
When you seek health care from us, we assume that we have your permission to collect, use and share your personal health information among your health care providers, including the doctors, nurses, residents, social workers, therapists, and other professionals or their support staff within the hospital, who provide or assist in providing health care to you. We may also give your personal health information to your physician or other health care providers outside the hospital so they can provide you with ongoing health care and follow-up. Hospital staff who do not provide or assist you with health care are generally not allowed to see your health information.
You may access your personal health records, or withdraw your consent for some uses by contacting us (subject to legal exceptions). For more information about our privacy protection practices, call the hospital at 705-324-6111 and ask for the Privacy Officer or email privacyofficer@rmh.org.
Hospital Equipment – for everyone's use
Hospital equipment needs to be available for those who require it. All hospital equipment, including all assistive devices, therapeutic seating, cushions, etc. is to be treated with care and should stay at the hospital.
If your medical team loans you an assistive device, they will provide you with information on its safe usage and explain the terms and conditions of its return. You will be financially responsible for equipment if it is not returned to the hospital. Security staff and cameras monitor for theft throughout the building. Those caught stealing hospital equipment will be prosecuted.
RMH is Smoke-free
As a healthcare leader in the community, it's the hospital's responsibility to help protect people from preventable diseases that are associated with smoking and exposure to second-hand smoke. That's why all hospital property, including the parking lot, is now 100% smoke-free.
This policy includes all of the hospital's buildings and grounds, including the cars in the parking lots. Anyone who wants to smoke will have to leave the property. Ash trays are located at the perimeter of the property near the sidewalks to help reduce litter on municipal property.
Staff and volunteers will not facilitate smoking for patients. Supervised smoking off site can be provided with the assistance of family or friends. Inpatients wishing to leave RMH property to smoke must sign a Leave of Absence form. Nicotine replacement products will be offered to every inpatient who smokes (as appropriate), to help with changes in regular smoking patterns.
If you are interested in nicotine replacement therapy or in learning about ways to quit smoking, please talk to your physician or call the Smoking Cessation coordinator at the Public Health Unit at 705-324-3569.
Scent-free Facility
Though we all like to smell nice, some staff and patients at RMH are allergic to ingredients in perfume, body lotion, cologne or after shave. For people with an allergy, being near people wearing these products can cause shortness of breath, dizziness, skin irritation, anxiety and nausea. As part of our scent-free policy, staff, physicians, patients and visitors are asked to refrain from wearing scented products or bringing highly-scented flowers to the hospital.
Latex-free Facility
For those who suffer from an allergy to latex, even the slightest exposure to latex balloons can cause symptoms ranging from a mild skin reaction to full blown, life-threatening anaphylactic shock. If you would like to bring or send balloons to the hospital, they must be latex-free.
Cell Phones and Electronic Devices
RMH offers free, publicly accessible Wi-Fi service in most areas of the building. Cell phones and other personal cellular devices may be used throughout the hospital, provided they do not impact patient privacy and the delivery of patient care.
Increasing the distance between a wireless communication device and medical equipment greatly reduces the risk of electromagnetic interference. Please keep these devices at least one metre away from medical equipment.
To help limit disruption to both patients and staff, please set wireless devices to "quiet" or "vibrate" and maintain a moderate speaking volume.
In order to preserve patient confidentiality, cell phones, cameras and other wireless communication devices may NOT be used to photograph, take video images or record the conversations of any patient, physician, volunteer or staff member without appropriate signed consent.
For more information, contact the Coordinator of Employee & Community Relations at 705-324-6111 ext 6246.
Lost and Found
If you have lost or found something, please call 705-324-6111 ext 6114.
Compliments or Concerns
There may be times when you or members of your family would like to pay a compliment, request clarification, or voice a concern. To do so, first speak to the departmental staff or manager. If you don't know the name and number of the manager, you can contact the Switchboard Operator for this information. If you require further assistance, contact the office of the Quality and Patient Experience Manager at ext 6218 or the Coordinator of Employee and Community Relations at ext 6246.
We're committed to addressing your concerns in a supportive and respectful way. We follow up on your concerns so that our staff and doctors are aware of issues and can respond to them.
Finding Your Way Around
Public Transportation
Buses
Lindsay Transit serves passengers travelling to and from the hospital on its Green route, which stops at the corner of Kent and Angeline Streets (near Dentistry on Kent) at 26 minutes past the hour, continues to the Lindsay Square Mall, then stops outside the hospital beside the ambulance bay at 34 minutes past the hour. The bus runs between 7:00am and 7:00pm Monday to Saturday. For more information on fares, schedules and accessibility, call Lindsay Transit at 705-324-9411.
Taxi
The volunteers at the Information Desk can help you to call a taxi. The Information Desk is located in the main lobby or you can call the volunteers at 705-324-6111 ext 4531.
Parking
Patient and visitor parking lots are located to the north and east of the hospital. The lot in front of the main entrance of the hospital is the short-term "Pay & Display" lot. There is also "Pay & Display" parking outside the Kent Street entrance on the south side of the hospital. This area is closest for patients visiting the Diagnostic Imaging department. There are also metered parking spots off Jane Street near the Dialysis Unit.
The long-term parking lot has a flat fee. To park in the long-term lot, go through the parking gate; you pay the fee at the gate when you leave. Only the Angeline Street gate accepts credit cards.
You can ask about the current parking rate at the Information Desk or the Cashier's office, or read the current rate on the hospital's website, www.rmh.org. If you're a frequent visitor of the hospital, you may purchase a weekly or monthly parking pass at the Cashier's office in the main lobby. We also offer a special rate for students and contractors. Parking fees help to support patient care at the Ross Memorial Hospital. We appreciate your help.
Community Care Transportation Services
Community Care provides a range of assisted door-to-door volunteer and specialized transportation services for seniors and adults with special needs. Transportation services allow residents with limited mobility options to continue to remain independent in the community by ensuring there is accessible, affordable and timely transportation. Trips are provided primarily for medical appointments, treatments, community support programs and basic activities of daily living. There are two main transportation programs provided by Community Care:
Volunteer Driver Program: Volunteer drivers use their own vehicles and provide transportation within the City of Kawartha Lakes and to other areas. This service is for people who do not require assistance to use regular transportation. Those who use the volunteer services include seniors and special needs clients such as those on fixed incomes.
Specialized Transportation Service: Specialized Transportation includes non-emergency stretcher/wheelchair transfer vehicles, wheelchair accessible vans and other vans. This program is for individuals with wheelchairs, those requiring non-emergency stretcher transfers or additional attendant service due to frailty.
Community Care's transportation is pre-booked and fee-for-service, with costs generally based on kilometers travelled. For more information and rates, call 705-324-7323 or visit www.ccckl.ca
About the Emergency Department
The Ross Memorial Hospital offers a full service Emergency department that is always open. While no one looks forward to a visit to the Emergency department, we hope these pages will help to answer some of your questions and give you a sense of what to expect.
I know I'm sick, but is it an emergency?
We are always here for you. We also want you to receive the timeliest and most appropriate level of care for your problem. If available to you, a family doctor or health clinic might be an option. To help you decide, consider calling Telehealth Ontario (24 hours): 1-866-797-0000 (toll-free) before you come to the Emergency department. You may also visit www.ontario.ca/healthcareoptions to discover what other options may be available to you in your area.
If my illness isn't an emergency, where can I go for health care?
You may choose to visit your family doctor's office or an after-hours clinic.
Lindsay – 55 Angeline St. N. (Giant Tiger plaza)
Mon-Fri 6pm-9pm
Sat-Sun 9am-noon
Bobcaygeon – 85 Bolton St. (above Shoppers Drug Mart)
Tuesdays 5pm-8pm
Bobcaygeon - 100 East St. S.
Tuesdays 5pm-8pm
Thursdays 5pm-8pm
If you do not have a family doctor, and are looking for a primary health care provider, contact Health Care Connect. The program refers people without a regular family health care provider to physicians and nurse practitioners who are accepting new patients in their community.
You can register for the Health Care Connect program by calling 1-800-445-1822. After you've registered, a nurse, called a Care Connector, will be assigned to help you find a health care provider in your area. You will receive contact information for your Care Connector by mail after you have registered for the program.
You may also visit www.ontario.ca/healthcareoptions to discover what other options may be available to you in your area.
Help for many conditions is also available by phone:
In an emergency, dial 911
Telehealth Ontario (24 hours): 1-866-797-0000 (toll-free)
Ontario Poison Control Centre: 1-800-268-9017 (toll-free)
What should I bring with me to the Emergency department?
Be sure to bring your:
Current Ontario health card
All medications you take, including non-prescription drugs such as acetaminophen, vitamins and herbal products.
If you are bringing a child, please consider packing a book or a favourite toy.
Reading material. In order to prevent the spread of germs, we try not to have magazines and newspapers in the waiting rooms.
Who can I bring with me to the Emergency department?
When you're sick or hurt, it helps to have the support of family or friends. In the Emergency department, we know your visitors will help you during your stay. However, we do have limited space. Please be respectful of our team and of other patients and limit the number of visitors you bring into the Emergency department.
Where can I park?
There is a short-term parking lot immediately outside the Emergency department. It's a Pay & Display lot, which means you deposit change into the machine in the parking lot to get a ticket to display on your dashboard.
You may, however, choose to park in the long-term lot through the parking gate to the north. This will save you worrying about getting ticketed if you're in the hospital longer than you anticipated. The long-term lot has a flat-fee; ask for the current rate at the Info Desk or Cashier's office. Parking revenues are directly applied to patient care at RMH.
In the Emergency department:
When you arrive, the first person you will likely meet is a triage nurse who will assess your condition. You will then be asked to register. You may be directed to a treatment area or to a seat in the waiting room. In the Emergency department, the sickest patients are seen first, regardless of who arrived first.
How long will I have to wait?
Our wait times are being reduced through special efforts. Close to 50% of patients with uncomplicated conditions are seen and treated in less than 3.5 hours. Patients who have more complicated conditions, and those who require multiple tests, are more likely to stay 6-7 hours.
We know waiting can be frustrating. How long you will wait depends on how sick you are and how many other people are being treated at the time of your visit. If we are treating many critically ill or injured patients, you may have to wait longer. As such, exact wait times are unpredictable. We ask for your patience and understanding. Rest assured that you will be seen as quickly as possible. If you have any concerns, or if your condition changes, please talk to the triage nurse.
Can I call ahead to find out the wait time?
Unfortunately, no. We ask that people do not call the Emergency department to find out about wait times – it's impossible to provide estimates over the phone. We never know when or what the next emergency might be; and each patient needs to be individually assessed at triage.
Is it okay to eat or drink while I'm waiting?
Many tests, including some related to abdominal pain or discomfort, require that you have an empty stomach. Please check with the triage nurse before eating or drinking.
If I need to leave the Emergency department temporarily will I lose my place in line?
If you really need to step out of the Emergency department, please speak to the triage nurse before you leave in case your name is about to be called.
What if I need further care after I leave the Emergency department?
If your condition gets worse or problems develop after your visit to the Emergency department, please contact your family doctor, local clinic, Telehealth Ontario, or return to the hospital.
What if I have to stay in the hospital?
If you need to stay in hospital for further care, you will be asked to complete admission forms, and will be assigned a room. When you are admitted, your care will become the responsibility of the medical and nursing staff on your unit.
If I have a compliment or a concern, who can I talk to?
Please speak to an Emergency department staff member, the Emergency department Team Leader or Manager. Should you require further assistance, you may contact our Coordinator of Employee & Community Relations at 705-324-6111 ext 6246 or contact our Quality Manager at 705-324-6111 ext 7313.
If Planning a Hospital Stay
What to bring
Please bring your pyjamas or nightgown, a bathrobe or sweater and a pair of sturdy shoes or slippers with non-slip soles. As well, bring your own unscented soap, shampoo, deodorant, toothbrush and toothpaste, brush or comb, shaving equipment and continence products or sanitary napkins if required.
It is important for your physician and nurses to know the medications you are taking at home. Please bring all medications you take, including non-prescription drugs such as acetaminophen, vitamins and herbal products.
Those who are bringing dentures, hearing devices and eye glasses are encouraged to keep these items safely in their possession while at the hospital. As well, it is helpful to label your walker or cane with your name.
What to leave at home
Please leave all valuables, including money and jewellery, at home. The hospital is not responsible for any lost or stolen items. Personal televisions are not allowed. Patients can arrange for television or telephone service by following the instructions on the bedside television screen.
Admission to hospital
The Admitting department is located just inside the Kent Street entrance of the hospital on the main floor.
Room charges and Co-payments
We will make every effort to place patients in the type of accommodation requested (ward, semi private, private). Infection control and patient care requirements are our primary considerations; we may not always be able to provide single gender rooms.
It is your responsibility to check with your insurance provider to determine what hospital insurance coverage you have. It's important to know that your coverage may vary depending on the type of service for which you are admitted. For example, you may have coverage for acute care, but not rehabilitation. OHIP covers standard ward care for Ontario residents with a valid OHIP card. Patients are responsible for all charges not covered by OHIP or an insurance provider. If you have additional health care insurance for preferred accommodation, you must present proof of such insurance at the time of admission. All outstanding amounts that are not covered by a private plan will be billed to you. For more information, contact the Admitting Department at ext 4240.
Complex continuing care is provided for people who have long-term illnesses or disabilities requiring care that is not available at home or in long-term care facilities. A co-payment is charged to patients requiring complex continuing care and who are, more or less, "residents" of the hospital. This includes some Alternative Level of Care (ALC) patients in a regular acute bed who are awaiting placement in a chronic care hospital/bed or long-term care facility. The co-payment applies once the doctor says the patient no longer requires acute care.
Residents of Ontario with a valid OHIP card whose physician has deemed their ambulance transportation medically necessary are responsible for a land ambulance service co-payment charge of $45.00. If you do not have a valid OHIP card, are not a resident of Ontario, or if your ambulance transportation was deemed not medically necessary, the co-payment charge is $240.00.
Uninsured Medical Items and Services
In addition to the previously noted preferred accommodation charges, other charges may be incurred for uninsured items such as crutches, splints, and medical devices. Payment arrangements for these items will be made through the Cashier's office in the main lobby. Ambulance transportation for admission or discharge is also billed directly to you.
Costs associated with medical and surgical procedures that are not covered by OHIP (i.e. elective circumcision, cosmetic surgical procedures) are considered uninsured and payment for these services is your responsibility. Payment of both the hospital fee and the medical practitioner fee are required in advance of the procedure.
Your Care During a Stay
Patient Safety – You're your best expert
Everyone at Ross Memorial Hospital is committed to providing the best care we can in a safe manner. We work together as a team and you are an important member of that team.
The hospital has a Patient Safety program in place to identify and control patient risks. We encourage you and your family to do the same. Talk to your health care team about what risks could affect you, and learn how to avoid the risks. Our health care providers are open to your questions and concerns about your care.
Three Major Safety Risks of Hospitalization
Three of the most common risks for patients involve medicines, falls and infections. You can help lower your risk by following these tips:
Medicines
Tell your health care provider about any allergies or bad reactions to medicines you may have had
Know what medicines you are on (name, strength, and how often) and why (include non-prescription medicines such as Tylenol, vitamins or herbal products)
Make sure your health care provider identifies you correctly before giving you any medicine
Ask what the medicine is and its purpose
Ask questions if the medicine looks different
Ask for a list of all the medicines you are supposed to be taking when you're discharged
Talk about any questions or concerns about your medicine (how to know if it's working, side effects, how long you'll take it)
While in hospital, don't take medicine you brought from home until it's approved by your doctor
Falls
Make sure you can reach the call bell if you are in your bed, a chair, or the bathroom, should you need to ring for help
Make sure you ask for help if you need it to use the bathroom or to sit/stand up
Wear slippers or shoes that fit properly and have non-skid soles
Some medicines can make you sleepy or dizzy — know how they affect you
Make sure staff use a transfer belt, placed securely around your waist, to help you up and for walking
Infections
Proper hand-washing is the best way to prevent infections
Make sure you, your family members and visitors all wash your hands before entering and leaving your room
Ask your health care providers if they have washed their hands before providing your care
Cover your mouth and nose with a tissue when coughing or sneezing and dispose of it in the garbage, then immediately wash your hands
If you have a prescription for antibiotics, finish all of it, even if you're feeling better
Patient Safety – You are your best expert
Your safety while a patient at our hospital is very important to us. You and your family can help to ensure a safe environment. We encourage you to:
Call for help – don't fall
Walk safely – use proper footwear and walking aids
Ask questions – ask about your treatments
Wash your hands
Your Care Team
At RMH, we have a team of dedicated professionals with diverse areas of expertise. Along with doctors and nurses, you may also receive care from an interdisciplinary team of physiotherapists, occupational therapists, social workers and dietitians, to name only a few.
During your stay at RMH, you might meet medical and nursing students or students of other disciplines, who are learning under the supervision of RMH staff. And while you are helping these future healthcare providers to gain valuable experience, you also benefit by having one more caring, interested health professional involved in your care.
The Community Care Access Centre is an important part of the RMH care team. CCAC Case Managers set up patients' discharge support plans. Sometimes, staff from CKL Community Care is also involved in supporting your transition home.
Our hospital volunteers are also an important part of the care team. You can find them assisting staff in many units of the hospital. Members of Hospice Kawartha Lakes are also present in various departments, particularly the Palliative Care Unit.
Those you will meet, as well as those behind-the-scenes, are working to provide you with the best care possible. You too, along with your family and other visitors, have a part to play on your health care team. Always feel free to ask questions. It's your care – be involved.
Personal Insulin Pumps
While some hospitals with inpatient Diabetes Educators permit patients to use their personal insulin pumps during their inpatient stay, this resource is not currently available at RMH. While in hospital, patients with insulin pumps will be converted to an insulin regimen and return to pump therapy when they are discharged.
Supportive Care Services
Supportive care services are responsive to the practical, emotional and spiritual needs of patients and their families through visits from the Spiritual Care Team professionals and Hospice Kawartha Lakes volunteers or services provided through the Hospital Elder Life Program. Your nursing care team can connect you with these services.
Accessibility
Please speak with your nurse if you require assistive devices, such as those for the hearing impaired or deaf, sight challenged or blind, and if you require an interpreter. All forms of communication (verbal and written) are available in accessible formats upon request. We also have mobility aids available. If you have a question or concern about accessibility at RMH, please speak to your nurse or unit manager, or contact the Public Relations office at 705-328-6246 or email publicrelations@rmh.org.
Meals
Most patients will receive their meals by bedside tray delivery during the following times:
Breakfast: 8:00am - 8:45pm
Lunch: 11:45am - 12:45pm
Supper: 4:30pm - 5:30 pm
All patients are given a Heart Healthy meal or a modification of this as ordered by the physician. All meals are non-selective. If you would like to be seen by a dietitian for education, please speak with your nurse.
Services Available
Telephone / Television Rentals
Patients can arrange for telephone and television service by calling an automated service that activates the televisions and telephones. To do this, follow the instructions on the TV screen. Payment is made by credit card. A portion of the rental revenues that are generated is returned to the hospital for patient care services. We thank you for your support.
Books and Magazines
Hospital volunteers bring book carts with paperbacks and magazines to the nursing units a few times a week. Local and national newspapers are available from coin boxes outside the hospital's main entrance.
Mail and Gift Deliveries
If you're expecting only a short stay at the hospital, you may want to encourage well-wishers to send mail and gifts to your home. By the time items arrive at the hospital, you may already be home. For those staying longer, please ask loved ones to be mindful of the limited space in a hospital room when choosing flowers or gift baskets. Please be aware that latex balloons or strong smelling flowers such as lilies, hyacinth and roses can cause serious reactions for some staff and patients, and are not permitted.
Clearly address mail or parcels to:
Patient Name, Patient Room Number
c/o Ross Memorial Hospital
10 Angeline St. North
Lindsay, Ontario K9V 4M8
You may ask your family and friends to email you, too. Patient emails can be sent to tlc@rmh.org. They're printed and delivered each weekday.
For patients wishing to send outgoing mail, there is a mailbox just outside the main entrance. Stamps can be purchased at the gift shop.
Going Home
Hospital discharge information and services
On admission to hospital (or as early as possible), it is important to start planning for your safe discharge home. Once your acute medical treatment is complete, the next stage of your care may take place at home. This must be considered as an option as we develop your treatment plan. For patients who do not require an acute level of care, the hospital environment is not an ideal place to recover, due to the risk of infection, falls and lack of mobility.
The Central East Community Care Access Centre care coordinator and other community partners will work with your hospital care team to explore all available options to provide you with a safe transition home. This will allow you to consider your longer-term decisions in a safe, comfortable environment.
This approach is meant to ensure that you and all of our patients can access and receive the care most suited to your health needs as quickly as possible. We are committed to making this transition a smooth one for you and your family.
If changes in long term living arrangements are required, those decisions will be made once you are home again. Important decisions such as these are best made in your own home with your family supporting you. If you need to apply and wait for accommodation in a long term care facility, it is most likely that you will leave the hospital to apply and wait at home with the appropriate supports. The hospital is not the best place to await long term care. However, if your condition necessitates staying in the hospital until a space in a long term care home is available, staff will discuss the applicable charges with you.
As you prepare to leave the hospital, please make sure that you have all your belongings, as well as any prescriptions and instructions you need. If you have any questions about medications, diet, activities or return appointments, please ask your physician or nurse before leaving.
Most patients are discharged by 9:00am. If possible, arrange for a friend or family member to take you home. If no one is available, please talk to your nurse or hospital discharge planner about your options for travel home. There are some excellent options of which you may not be aware. Any charges for transportation are your responsibility.
Patient Accounts
The hospital accepts payment at the Cashier's office, located inside the main lobby. Payment is accepted by debit or credit card, cheque or cash. You can make a payment in person, by telephone, by mail or by clicking "Pay Your Bill" on the hospital's website, www.rmh.org.
The Cashier's office can be reached by calling 705-324-6111 ext 4229. If sending payment in the mail, please clearly address the envelope "Attn: Cashier's Office," and do not put cash in the mail. For the hospital's address, see "general information."
Patient Surveys
Our aim is to provide the best care possible, and we want to hear your feedback on how we are doing. Following your stay, you may receive a confidential Patient Satisfaction Survey from an independent research company called NRC Picker. Please take a few minutes to complete it. We appreciate your input; it will help us to improve.
Visiting
Infection Control
To protect yourself, the people at RMH, and those you love at home, reduce your risk of infection by washing your hands well and often. Hand washing is the single most important way to prevent the spread of germs.
Wash your hands:
Upon entering or exiting the hospital
Before and after contact with a patient
Before and after eating and drinking
After using the restroom
After covering a cough or a sneeze
Visitors are asked to supervise small children closely. Visitors who are ill – children included – are asked to postpone their visit until they are feeling better.
Visiting Hours
Our visiting hours are intended to focus the visiting times for friends, neighbours and extended family. On most units, visiting hours are from 11am to 1pm and 5pm to 8 pm. If you are the primary care giver and support person, the visiting hours are more flexible. It is best to discuss appropriate visit times with the patient's nurses, particularly when the patient has a roommate.
Exceptions to the visiting hours policy are made in special circumstances, such as during palliative care or when a patient is confused in the hospital environment.
Between 8:00pm and 6:00am, the only access to the hospital is through the Emergency department. If you need to access a nursing unit overnight, please speak to the Security Officer in the Emergency department. He or she will call the unit to get approval to let you in.
Questions about your loved one
Information concerning a patient's condition will only be released to family members and only with the patient's consent. One family member should be designated to act as the liaison between doctors, nursing staff and other family members. If the patient is accepting telephone calls, the calls will be referred to the patient; otherwise, the calls will be directed to the designated family member.
Contacting a Patient
If the patient you wish to reach has paid for telephone service, he or she can be reached directly, or through the hospital's switchboard. Get well wishes can be sent electronically via a form on the hospital's website, or by emailing tlc@rmh.org. Messages are delivered to patients each weekday.
Shops & Services
Cafeteria
The cafeteria is located on the basement floor, beside the Dialysis Unit, accessible by taking the yellow or blue elevator to the basement level. Each day, the Nutrition Services team offers a variety of hot and cold meals, a fresh salad bar, and deli counter, soup, desserts and take-out products. The cafeteria's current hours and selections are posted in the main lobby and outside the cafeteria.
Vending and Change Machines
Vending machines can be found in the cafeteria, outside the Laboratory, in the main lobby by the Cashier's office, in the Emergency department, outside the Maternity Unit, and on the Medical and Surgical Units near the Blue Elevators. For customer service with the machines, call extension 4293.
Change machines are located in the main lobby across from the Cashier's office and in the Emergency department.
Reflections Café & Gift shop
The Reflections Café & Gift Shop are operated by hospital volunteers and all profits are used to support the hospital. Both are located in the main lobby.
The Café offers hot and cold beverages, soup and sandwiches, as well as muffins and other baked goods. Hours of operation are Monday to Friday 7:00am to 7:00pm and weekends from 11:00am to 3:00pm.
The Gift Shop offers a large selection of items including flowers, cards, magazines, and personal items for sale. The gift shop is open 9:00am to 7:00pm Monday to Friday, and 11:00am to 3:00pm on weekends.
Bank Machine (ATM)
For your convenience, a bank machine is available in the main lobby beside the Cashier's office.
Volunteering at RMH
Part of the Team
Ross Memorial Hospital has a dedicated team of hardworking volunteers who provide close to 40,000 hours of service to the hospital each year. In addition to our adult team of volunteers, we have an active program for 15-18 year-olds, known as our volunteens.
For more than 100 years, Auxiliary members have made a world of difference - to patients and their visitors, physicians and staff. Volunteers contribute their time throughout the hospital seven days a week. Some of their efforts generate revenue for the hospital, such as the gift shop, the café and lottery ticket sales.
Their dedication to the hospital is an inspiration. The hospital couldn't possibly provide the exceptional care our patients deserve without the help of our volunteers.
For more information on how to become a member of our volunteer team, call 324-6111 ext 4530 or visit our website, www.rmh.org.
Ross Memorial Hospital Foundation
Every day and night, patients at the Ross Memorial Hospital are touched by the generosity of local donors like you.
From the IV pumps beside their beds and the monitors tracking their vital signs, to the MRI that gives physicians a precision view of an injury and the surgical tools that help them treat it… your support impacts care.
Donors give for many reasons: to say thanks, to remember a loved one, to celebrate a special occasion, to leave a legacy… to make a difference.
You can, too.
The Foundation staff is available to discuss the many ways gifts can be made:
| | | |
| --- | --- | --- |
| General Donations | Special Events | Bequests By Will |
| Memorial Gifts | Monthly Gifts | Gifts of Listed Securities |
| Special Occasion Gifts | Gifts In Kind | Giftsof Insurance |
Can I direct my donation to a certain area of the hospital?
Yes, you can. Gifts can be designated to:
Where it's most needed
Current appeal
Equipment fund
Education fund
Specific program or unit
Designated donations purchase equipment that has been identified as an 'urgent need' in that area of the hospital. Each year, these equipment needs are prioritized by the Hospital and approved by the Board of Governors. All equipment, purchased through the hospital's budget or through generous donations, must follow a hospital approval process.
Donors help the hospital provide the highest quality of healthcare. Thank you for your support! To learn more about our current projects, or to make a donation, please contact us at 705-328-6146 or foundation@rmh.org. or visit our website, www.rmh.org/foundation.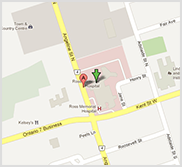 Maps
10 Angeline St. North
Lindsay, ON K9V 4M8
Directions
Floorplans
@RossMemorial
Follow us and stay up to date on news, events and health related issues: