COVID-19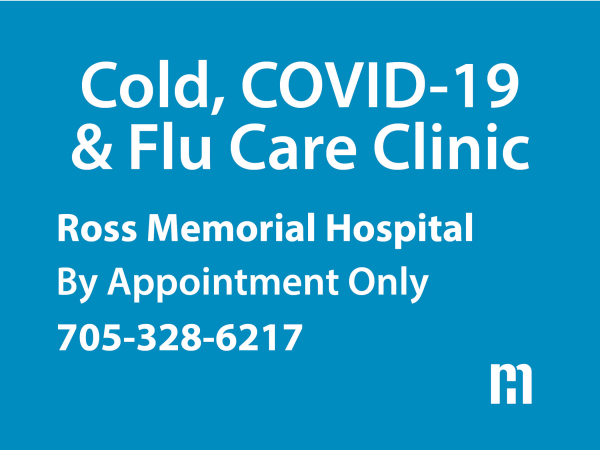 Admitted patients with COVID-19: 6 (1 with COVID as primary cause of admission)
*Current as of February 1, 2023. Updated by noon, Monday - Friday*
Cold, COVID-19 and Flu Care Clinic At RMH Is By Appointment Only
How To Book An Appointment
Leave a message anytime at 705-328-6217 (If there is a delay in getting through or leaving a message, please continue trying)
You will receive a call back within 1-2 business days
Do not leave multiple messages
The Care Clinic Operates Monday-Friday (excluding statuary holidays) from 8:30 a.m.- 4:00 p.m.
Is the Cold, COVID-19 and Flu Care Clinic the right place for you?
If you are unable to successfully book an appointment with your primary care provider, or do not have one, you can book a clinical assessment at Ross Memorial's Cold, COVID-19 and Flu Care Clinic when:
You are experiencing a worsening of any of the following symptoms:

Fever/chills, decrease or loss of taste or smell, muscle aches/joint pain, extreme tiredness, sore throat, runny or congested nose, headache, decreased appetite (young children only), or cough, abdominal pain or pink eye that is not related to other causes.

You have been directed by your primary care provider; unable to book an appointment; or another health care professional has referred you.
You are unable to safely monitor your symptoms at home.
You will be visiting a long term care home
You are eligible for COVID-19 testing in alignment with provincial eligibility criteria. Travel swabs are not available at this clinic.
You require COVID-19 testing prior to medical procedure
You are at higher risk of severe illness, including:

immunocompromised individuals aged 18 and over regardless of vaccine status
unvaccinated individuals aged 60 and over
unvaccinated First Nation, Inuit and Métis individuals aged 50 and over
unvaccinated individuals aged 50 and over with one or more risk factors
If symptoms are severe, including difficulty breathing, chest pain, confusion or loss of consciousness, you should call 911 or proceed to the Emergency Department.
Arriving For Your Appointment​
Arrive to the hospital at your appointment time
Park in the short-term parking lot at the south side of the hospital, entering from Kent St. (There is no charge for parking for those visiting the Cold, COVID-19 and Flu Care Clinic. All other patients should use short or long-term parking on the North side of the hospital)
You will be provided a medical-grade mask by the hospital
Bring your identification, health card and list of your medications, if possible
Proceed to the South Entrance (follow signage for Cold, COVID-19 and Flu Care Clinic)
Maintain physical distancing from others awaiting testing
Test Results
Your COVID-19 results should be available at Ontario.ca/coronavirus within 5 days of your test. If you haven't been able to access your results online after 5 days, call 705-328-6217 and leave a message.
Visit the provincial COVID-19 website to learn more about symptoms in infants and children, and when you should take your child to the Emergency Department.
Local COVID-19 Vaccination Clinics
For information about the COVID-19 Vaccine, please visit
the provincial website
.
Enhanced Measures in Place at RMH
All contractors and outside vendors must adhere to Ross Memorial Hospital's COVID-19 Vaccination Policy. This includes submitting a COVID-19 Attestation Form and following the hospital's guidelines.
Limiting entrances to hospital
Emergency Department entrance – 24 hours/day
Main entrance – 6:30 a.m. – 8 p.m.
Dialysis entrance – For Dialysis patients ONLY – 6:30a.m. to 7 p.m.
Note - Admitting (south) and Administrative (west) entrances are reserved for COVID-19 Assessment only.
Visiting Restrictions and Protocols - December 22, 2022
RMH strongly encourages eligible community members to be vaccinated against COVID-19 to help ensure the safest possible environment for everyone.
Subject to change without notice. Some exceptions apply.
A Mandatory Masking Policy is in place. The hospital will provide masks upon entry.
RMH's visitation restrictions/protocols are as follows:
Visiting Hours
Inpatient units: Seven days a week, 9 a.m. to 8 p.m
Visitor Information/Screening Information
Visitors must enter through the main entrance. Visitors will be denied entry if:
Exhibiting the following signs or symptoms: Fever, cough, difficulty breathing, difficulty swallowing, sore throat, runny nose, loss of taste or smell, nausea, vomiting, or diarrhea.
Is a known or suspected COVID-19 positive and has not been cleared by Public Health.
Is a contact of a known COVID-19 positive individual.
*COVID-19 positive/suspected patients will not be permitted visitors, except in some extenuating circumstances. Please discuss with your health-care team.*
We continue to offer Virtual Visits (video calls) to support patients and loved ones staying connected. Learn more.
Visiting Protocols
Visitors must pass COVID-19 and Influenza symptom screening upon entry, sanitize their hands, and wear a medical-grade mask provided by the hospital. Visitors are not to eat or drink while inside RMH, including in patient rooms.
Inpatient
High Risk exposure and confirmed COVID-19 positive individuals are not allowed to visit patients due to the increased risk to other visitors, patients and staff.
Anyone who refuses to properly wear a medical-grade mask will not be permitted entry to the hospital and/or will be asked to leave the hospital premises. If a medical condition prevents someone from wearing a mask, please arrange an alternative with our care team.
A maximum of four (4) designated visitors are allowed to visit a patient and only one (1) at a time for inpatients. Patients will be limited to seeing two visitors each day.
There is no eating or drinking in patient rooms, waiting areas and hallways.
Emergency
Visitors will be permitted based on patient needs and unit activity.
Patients who are near end-of-life (within weeks).
Patients who are under 18 years of age (supported by parents or legal guardians).
Patients requiring a support person when:

receiving a life-altering diagnosis,
experiencing a mental health crisis, or
they are developmentally or intellectually challenged. For example, due to dementia, significant developmental or intellectually challenges, they have an inability to effectively communicate or mobility issues that cannot be supported by our health-care team, etc.
Surgical Outpatient and Procedural Patients who require sedation
One essential family member. Caregiver for drop off and pick up. This individual will be permitted to return for same-day patients to ensure discharge instructions are communicated, and to provide an opportunity to ask questions.
Care Packages for Patients
It's hard being away from your loved one in hospital. You can send them a care package to let them know you're thinking of them. Please label your package (patient's name and room #) and drop it off at the main entrance from 10 a.m. to 4 p.m. Please limit your care package to essential items only:
One grocery-sized bag or small box per patient
Personal aids - walkers, canes, glasses, hearing aids, dentures, prosthetics - items must arrive cleaned
Communication aids - phone, charger, tablet. Item must arrive cleaned.
Toiletries and grooming items - toothbrush, toothpaste, soap, deodorant, feminine hygiene products, razor, brush. Items must be new.
Clothing - items must be laundered.
Food: Must be packaged in a sealable, wipeable container, not require refrigeration or heating, and be easily discarded.
Resources