COVID-19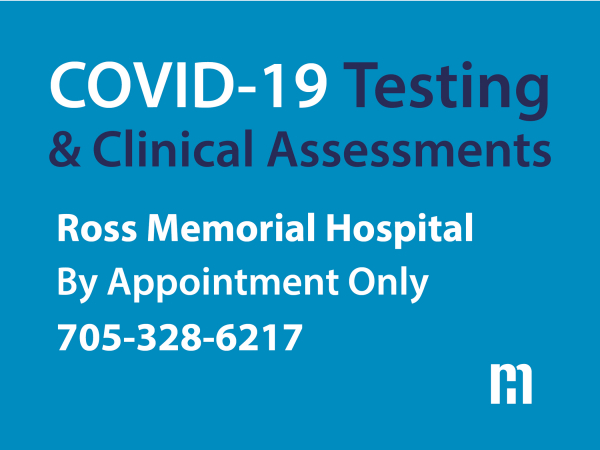 Admitted patients with COVID-19: 10 (0 with COVID as primary cause of admission)
*Current as of May 19, 2022. Updated by noon, Monday - Friday*
COVID-19 Testing and Clinical Assessments at RMH are By Appointment Only
How to book an appointment
Leave a message anytime at 705-328-6217 (If there is a delay in getting through or leaving a message, please continue trying)
You will receive a call back within 1-2 business days
Do not leave multiple messages
Appointments are available Monday, Tuesday, Thursday and Friday from 8:30 a.m.- 4:00 p.m.
Arriving for your appointment​
Arrive to the hospital at your appointment time
Park in the short-term parking lot at the south side of the hospital, entering from Kent St. (There is no charge for parking for those visiting the assessment centre. All other patients should use short or long-term parking on the North side of the hospital)
Wear a mask
Bring your health card and identification
Proceed to the South Entrance (follow signage for COVID-19 Assessment Centre)
Maintain physical distancing from others awaiting testing
The RMH COVID-19 Assessment Centre can provide testing for:
**Please note that Ross Memorial does not provide testing for travel**
Anyone age 1 and over who is showing COVID-19 symptoms. You may be asked to visit the Emergency Department if your symptoms, or your child's symptoms are severe
​Individuals who have been notified by Public Health or the COVID Alert app about a potential exposure to a confirmed case of the virus
Individuals who live or work in an at-risk setting, including long-term care, shelters or other congregate setting
You will be visiting a long term care home
You are eligible for testing as part of a targeted testing initiative as determined by the Ministry of Health or Ministry of Long Term Care
Those who require COVID-19 testing prior to medical procedure
If symptoms are severe, including difficulty breathing, chest pain, confusion or loss of consciousness, you should call 911 or proceed to the Emergency Department.
Test Results
Your results should be available at Ontario.ca/coronavirus within 5 days of your test. If you haven't been able to access your results online after 5 days, call 705-328-6217 and leave a message.

CLINICAL ASSESSMENTS
In addition to testing, Ross Memorial offers clinical assessments. Our on-site health care professionals can provide an assessment if your COVID-19 symptoms are getting worse, but are not severe enough to require an emergency department visit.
Individuals seeking a clinical assessment are asked to book an appointment through the same (705)328-6217 phone number.
Visit the provincial COVID-19 website to learn more about symptoms in infants and children, and when you should take your child to the Emergency Department.
Local COVID-19 Vaccination Clinics
For information about the COVID-19 Vaccine, please visit
the provincial website
.
Enhanced Measures in Place at RMH
All contractors and outside vendors must adhere to Ross Memorial Hospital's COVID-19 Vaccination Policy. This includes submitting a COVID-19 Attestation Form and following the hospital's guidelines.
We are screening everyone entering the hospital
To protect patients, families and our team, we are screening everyone entering our hospital. Please answer these questions honestly and stay home if you are ill.
Limiting entrances to hospital
Emergency Department entrance – 24 hours/day
Main entrance – 6:30 a.m. – 8 p.m.
Dialysis entrance – For Dialysis patients ONLY – 6:30a.m. to 7 p.m.
Note - Admitting (south) and Administrative (west) entrances are reserved for COVID-19 Assessment only.
Visiting Restrictions and Protocols - Effective March 16, 2022
Although vaccine requirements have changed for non-essential businesses, RMH will continue to require proof of vaccination to maintain the safest possible environment for everyone.
All visitors must show proof of double-vaccination and photo identification or provide a valid medical exemption.
Subject to change without notice. Some exceptions apply.
Effective March 16, 2022, RMH's visitation restrictions/protocols are as follows:
Visiting Protocols
Each admitted patient will identify two designated visitors (minimum 16 years of age) and be allowed one visitor at a time.
Visitors are not permitted for patients in isolation awaiting the results of a COVID-19 test until a negative result is confirmed, unless identified as a vulnerable patient (see below).
All visitors will be screened for COVID-19 symptoms. Those who fail the screening will be denied entry to RMH.
All visitors must show proof of double-vaccination and photo identification.
Visitors must wear a hospital-issued mask at all times. Cloth masks or any other face-covering brought from home will not be accepted.
Masks must always cover the nose and mouth and fit snugly against the face.
Visitors must maintain at least two metres distance between patients and members of the care team at all times.
Visitors must follow safety precautions such as hand-sanitizing and the wearing. of Personal Protective Equipment, if required (as directed by the care team).
Visitors are not to eat or drink while inside RMH.
Visitors must go to and from the unit they are visiting – NO unit-to-unit visiting. For more information, please contact your care team.
Visiting Hours
Inpatient units: Seven days a week, 9 a.m. to 8 p.m.
Visitor Allowance by Patient Type
Vulnerable Patients
Someone who is, or may be for any reason, unable to protect and take care of themselves against significant harm or exploitation (e.g. patient under 18 years of age, has a cognitive impairment, significant developmental and/or intellectual disability, has mobility concerns, or is unable to effectively communicate).
Emergency Care Patients
Vulnerable Patients (as defined above) who present to the Emergency Department, pregnant patients with complications, mental health patients who would benefit from a support person present (e.g. significant anxiety, delusions, and threats of harming themselves), patients who are critically ill, or patients with a high risk of dying in the next 24hrs.
One visitor to stay with patient in ED when in a defined room that allows physical distancing excluding waiting room areas.
End of Life
(Including MAID and withdrawal of life-sustaining treatment)
Patient with high risk of dying within two weeks:
Two designated visitors and two 2 visitors at a time.
Cultural /spiritual practices to be enabled.
Spirtual leaders are not considered as a visitor.
Patient with high risk of dying within the next 24-to-48 hours:
24-hour access to people of importance (immediate family).
Two visitors at a time, no limit in a day.
Cultural /spiritual practices to be enabled.
Spirtual leaders are not considered a visitor.
Child Birth
Patient in labour and delivery
One visitor for labour and delivery support and to stay as long as mother requires assistance with care for infant.
A Doula is not considered a visitor.
Postpartum
Two designated visitors, one visitor at a time.
Inpatients (Medical, Surgical, CCP1, CCP2)
Two designated visitors, one visitor at a time.
Exception: No visitors are permitted for COVID-19 positive inpatients who are not critically ill or at end of life.
Mental Health Unit
Two designated visitors, one visitor at a time.
Appointments must be made with the unit for visits.
Ambulatory Care / Diagnostic Imaging Clinic Patients
One visitor to accompany the patient to outpatient appointments, as long as physical distancing can be maintained.
Visitor Information / COVID-19 Screening Information
Visitors will use the Main Entrance and must adhere to the following criteria:
Visitors will be required to provide proof of vaccination demonstrating 14 days have passed since their second dose, as well as photo identification..
If a visitor does not have proof of vaccination or a valid exemption, or there is not time to produce the required proof, the visitor may still enter RMH under the following exceptions:
Patient is a child
Patient is palliative/end of life
Patient is in labour
Patient is experiencing a life altering or critical illness as identified by the clinical team
Patient requires a support person due to underlying condition
It's important to note, vaccination is not a condition of receiving care at RMH.
Ontario residents can download their proof of vaccination in a PDF via the provincial COVID-19 website.
Visitors exhibiting the following signs or symptoms will not be permitted inside RMH:
Fever, cough, difficulty breathing, difficulty swallowing, sore throat, runny nose, loss of taste or smell, nausea, vomiting, or diarrhea.
Anyone who is known or suspected COVID-19 positive and has not been cleared by Public Health.
Anyone who is a contact of a known COVID-19 positive individual.
We continue to offer Virtual Visits (video calls) to support patients and loved ones stay connected. Learn more.

Care Packages for Patients
It's hard being away from your loved one in hospital. You can send them a care package to let them know you're thinking of them. Please label your package (patient's name and room #) and drop it off at the main entrance from 10am-4pm. Care packages will be disinfected before being delivered to the patient. Please limit your care package to essential items only:
One grocery-sized bag or small box per patient
Personal aids - walkers, canes, glasses, hearing aids, dentures, prosthetics - items must arrive cleaned
Communication aids - phone, charger, tablet. Item must arrive cleaned.
Toiletries and grooming items - toothbrush, toothpaste, soap, deodorant, feminine hygiene products, razor, brush. Items must be new.
Clothing - items must be laundered.
Food: Must be packaged in a sealable, wipeable container, not require refrigeration or heating, and be easily discarded.
Showing your support
We are grateful for your support in the following ways:
We continue to accept donations of unopened/unused surgical masks, N95 respirator masks, gloves, and waterproof gowns to support our front-line workers. Please contact dabbott@rmh.org or 705-324-6111 ext. 5175 to arrange your donation.
Ross Memorial Hospital Foundation has established a special fund, called Heroes at Heart, to support urgent equipment and technology needs as the Ross responds to the pandemic. To support the COVID-19 response at RMH, please give to our Heroes at Heart fund by phone (705-328-6146), by email (foundation@rmh.org

) or online (

www.rmh.org/foundation

).

​

We cannot accept food donations for our staff and physicians, including food sent from restaurants or home-baked goods.
Resources