COVID-19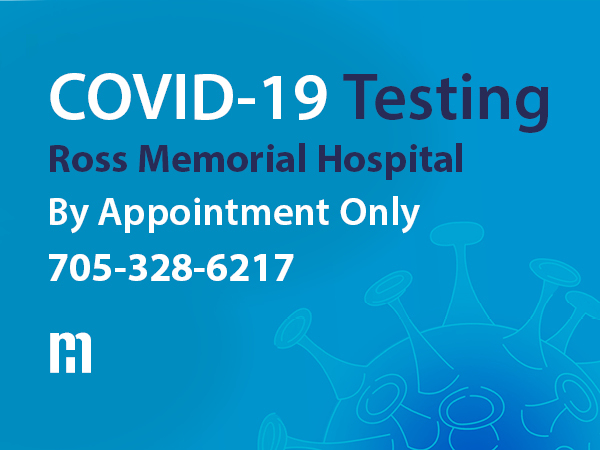 COVID-19 Testing is By Appointment Only.
How to book an appointment
First, visit the provincial COVID-19 website to learn if you qualify for testing under the current Provincial guidelines
Call 705-328-6217 or request an appointment online
Do not leave multiple messages or submit multiple forms
Appointments are available Monday to Friday, 9:30-5:15pm
You will receive a call back within 1-2 business days
Arriving for your appointment
Arrive to the hospital at your appointment time.
Wear a mask
Bring your health card and identification
Maintain physical distancing from others awaiting testing
Parking and Entrances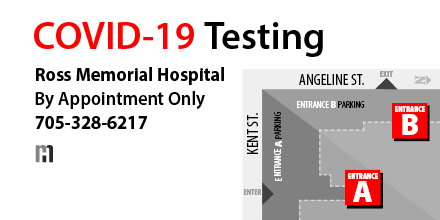 You will be instructed to proceed to either Entrance A or Entrance B when booking your appointment, depending on whether you require a test or physician assessment. Both entrances are marked clearly.
Entrance A - located on South side of hospital
Entrance B - located on West Side of Hospital
For either entrance, park in the short-term parking lot, entering from Kent St. Those attending Entrance B may wish to park closer to that entrance (spots next to Angeline St. in the same lot). Exit the lot via Angeline St. to support traffic flow. ​
The RMH COVID-19 Assessment Centre can provide testing for:
Anyone age 1 and over who is showing COVID-19 symptoms. You may be asked to visit the Emergency Department if your symptoms, or your child's symptoms are severe.
​Individuals who have been notified by Public Health or the COVID Alert app about a potential exposure to a confirmed case of the virus
Individuals who live or work in an at-risk setting, including long-term care, shelters or other congregate setting
You will be visiting a long term care home
You are eligible for testing as part of a targeted testing initiative as determined by the Ministry of Health or Ministry of Long Term Care.
Those who require COVID-19 testing prior to medical procedure
If symptoms are severe, including difficulty breathing, chest pain, confusion or loss of consciousness, you should call 911 or proceed to the Emergency Department.
Visit the provincial COVID-19 website to learn more about symptoms in infants and children, and when you should take your child to the Emergency Department.
Test Results
Your results should be available at Ontario.ca/coronavirus within 5 days of your test. If you haven't been able to access your results online after 5 days, call 705-328-6217 and leave a message.
Enhanced Measures in Place at RMH
We are screening everyone entering the hospital
To protect patients, families and our team, we are screening everyone entering our hospital. Please answer these questions honestly and stay home if you are ill.
Limiting entrances to hospital
Emergency Department entrance – 24 hours/day
Main entrance – 6:30 a.m. – 8 p.m.
Dialysis entrance – For Dialysis patients ONLY – 6:30a.m. to 7 p.m.
Note - Admitting (south) and Administrative (west) entrances are reserved for COVID-19 Assessment only.
Visiting Guidelines
One visitor per patient, 1 visit per day
2 visitors per day for palliative care patients
We continue to ask that patients with appointments or attending the Emergency Department should come alone, unless a support person is essential.
Visitors must be over the age of 16, though visitors to palliative patients will be considered on a case by case basis
What you need to know for your visit
Enter at the main entrance, clean your hands with hand sanitizer and answer screening questions honestly.
You'll be provided with a sticker to wear for the duration of your visit.
You will be asked your full name and contact information
Bring a mask if you have one or you will be provided one. Keep your mask on throughout your visit.
Food or drink must not be consumed while visiting. You may bring food/drink for the patient, as long as it does not require storage or heating.
Do not bring animals to visit, with exceptions for service animals.
Check in with staff when you arrive to the unit. Stay in your loved one's room when you visit. Do not visit other areas in the hospital. Once onsite, you cannot leave and return on the same day.
Maintain physical distance of 2 metres/6 feet or more from all hospital staff and patients
Sanitize your hands before entering and when leaving the patient's room, as well as at other doorways and 'high-touch' surfaces. Sanitize your hands upon leaving the hospital.
We continue to offer Virtual Visits (video calls) to support patients and loved ones stay connected. Learn more.

Care Packages for Patients
It's hard being away from your loved one in hospital. You can send them a care package to let them know you're thinking of them. Please label your package (patient's name and room #) and drop it off at the main entrance from 10am-4pm. Care packages will be disinfected before being delivered to the patient. Please limit your care package to essential items only:
One grocery-sized bag or small box per patient
Personal aids - walkers, canes, glasses, hearing aids, dentures, prosthetics - items must arrive cleaned
Communication aids - phone, charger, tablet. Item must arrive cleaned.
Toiletries and grooming items - toothbrush, toothpaste, soap, deodorant, feminine hygiene products, razor, brush. Items must be new.
Clothing - items must be laundered.
Food: Must be packaged in a sealable, wipeable container, not require refrigeration or heating, and be easily discarded.
Showing your support
We are grateful for your support in the following ways:
We continue to accept donations of unopened/unused surgical masks, N95 respirator masks, gloves, and waterproof gowns to support our front-line workers. Please contact dabbott@rmh.org or705-324-6111 ext. 5175 to arrange your donation.
We've had many kind offers of homemade masks. Learn more about making and donating homemade masks.

Ross Memorial Hospital Foundation has established a special fund, called Heroes at Heart, to support urgent equipment and technology needs as the Ross responds to the pandemic. To support the COVID-19 response at RMH, please give to our Heroes at Heart fund by phone (705-328-6146), by email (

foundation@rmh.org

) or online (

www.rmh.org/foundation

).

​

We cannot accept food donations for our staff and physicians, including food sent from restaurants or home-baked goods.
News
Resources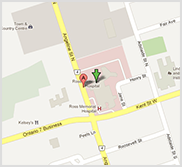 Maps
10 Angeline St. North
Lindsay, ON K9V 4M8
Directions
Floorplans
@RossMemorial
Follow us and stay up to date on news, events and health related issues: