Surgical Program
The Perioperative Suite includes Same Day Surgery Unit, Post-Anaesthetic Care Unit, Operating Room, and Endoscopy Unit.
The Surgical sub-specialties offered include:
General Surgery
Gynecology/Obstetrics
Urology
Ophthalmology
Orthopedics
Oral/Dental
Endoscopy (including gastroscopy, colonoscopy)
In 2012, the Surgical program created PREP school, which is the Patient Road for Education and Preparation. PREP school helps patients requiring a hip or knee replacement to know what to expect, how to prepare, and what they can do to ensure a smooth recovery. PREP school has helped to improve patients' lengths of stay in hospital and the percentage of patients who are able to return home, without the need for inpatient rehabilitation.
PREP school students (patients) use the following workbooks:
PREP School Hip Replacement Workbook
PREP School Knee Replacement Workbook
PREP School Knee Replacement Video: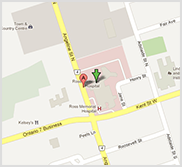 Maps
10 Angeline St. North
Lindsay, ON K9V 4M8
Directions
Floorplans
@RossMemorial
Follow us and stay up to date on news, events and health related issues: