Goals & Objectives
Strategic Direction #1:
To be an exceptional workplace. (People Excellence)
Objectives
RMH will develop a 'People Plan' to ensure staffing facilitates the delivery of safe, competent and high quality care now and in the future. The People Plan will consider service delivery to meet future population demands. RMH will continue to develop a formal succession plan for leadership roles, and will continue to collaborate with LHIN partners with regard to the development of leadership education opportunities.

RMH will continue to advance a healthy workplace by fostering informed decision making, a trusting and respectful collaborative work environment, recognizing efforts and creating effective staffing models. This will be achieved by:
* Creating unit-based councils
* Ensuring frontline staff representation in any change initiative
* Ensuring physician consultation early in change initiatives
* Examining drivers for sick time and overtime and working to reduce them
* Implementing a Psychological Health and Safety Plan
* Continuing to evaluate and implement Violence Prevention strategies

RMH will identify a 'service excellence' model to adopt. This model will then be socialized and taught in both individual and team-based sessions to provide consistent service excellence to patients, their families, co-workers, and our community.
Strategic Direction #2:
To provide exceptional quality patient care and experiences. (Clinical Excellence)
Objectives
4. RMH will develop, implement and report on the 2018/19 Quality Improvement Plan eight indicators; Staff Experience, Physician Experience, Patient
Experience, Workplace Violence, Falls with Harm, Status Change, Hospital Acquired Pressure Ulcers, Medication Reconciliation.
5. RMH will continue to engage Patients and Family members and evolve the Patient & Family Council. Initiatives considered in the coming year would be to
have the PFC:
* Review relevant corporate policies for input
* Provide input into change initiatives
* Begin PEP rounding in different departments
* Consider PEP involvement on the Board's Quality Committee
6. RMH will continue to advance Accreditation preparedness, including implementation of standards of practice.
7. RMH will implement a Professional Practice Model for nursing care, as well as for other Regulated Health Professions.
8. RMH will plan for the delivery of full service stroke care.
9. RMH will participate in new bundled care models and new QBP development.
10. RMH will continue to plan and implement senior friendly hospital initiatives as set out by the Seniors' Care Network.
Strategic Direction #3:
To achieve exceptional partnerships and operations. (Operational Excellence)
11. RMH will conduct a master planning exercise to align clinical services, including their footprint. This will include evolving plans for the renovation of the space
above dialysis, the reconfiguration of the Lab work area, and consideration of the impacts should systemic therapy be delivered at RMH.
12. RMH will review and optimize internal operational committee governance structures and terms of reference.
13. RMH will actively pursue opportunities for integration to enhance patient care, improve the quality of care and ensure sustainability of services into the
future. We will continue to work with our hospital and community partners to optimize our shared services and identify other opportunities. This will include
continuing to work collaboratively with our Clinical Information System (CIS) Central East LHIN partners to successfullly obtain a vendor through the
development and evaluation of the RFP and explore the feasibility of a Patient Portal.
14. RMH will continue to advocate for enhanced financial resources, including adjustments to its base funding.
15. RMH will effectively link Decision Support to Resources to allow decision making to be data driven and will implement a Decision Support
Balanced Scorecard.
16. In preparation for the CIS, RMH will develop an internal informatics team, governance structures and standardization of business practices,
workflows and procedures.
17. RMH will optimize technology, operating procedures and practices (e.g. IT interfaces, Emergency Department Tracker Board, eVoice Recognition,
preventative maintenance system) to meet business demands.
18. RMH will complete planned construction projects on time and within budget (DI redevelopment, PICU door/wall system replacement, elevator
modernization, kitchen exhaust repair).
19. RMH will improve our Landfill Diversion Rate to 45%, by improving our green footprint (food compost, recycling).
20. RMH will create an organization-wide maintenance plan and a plan for systematic repair or replacement of infrastructure due to the aging facility.
21. RMH will implment the Privacy Framework to ensure the Hospital is proactive in establishing, implementing and maintaining privacy processes and
compliant with privacy legislation.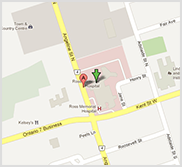 Maps
10 Angeline St. North
Lindsay, ON K9V 4M8
Directions
Floorplans
@RossMemorial
Follow us and stay up to date on news, events and health related issues: