Ontario Breast Screening Program (OBSP)
The Ontario Breast Screening Program is located on the 1st floor of the Hospital, and can be reached at 705-328-6175.
The Ontario Breast Screening Program (OBSP) was developed by Cancer Care Ontario in 1990 after careful study indicated the importance and illustrated the benefits of breast cancer screening programs. Ross Memorial became an affiliate of the program in 1998 and today, there are approximately 160 visits per month. The Ontario Breast Screening Program provides a screening mammogram, which is a safe and effective way of detecting early problems. Two x-rays of each breast are taken and if there is a problem, an appointment will be made for a diagnostic exam so that a more precise and detailed diagnosis may be made.
When patients arrive, they are shown a video on breast self-examination.  The digital mammogram is done by a specially trained Medical Radiation Technologist. Each patient and their physician will receive the results of the tests within two weeks of the screening.
It is recommended that women 50 years and older be screened every two years. Patients can book their own appointments or can be referred by their family physician. Ross Memorial Hospital will contact patients who have had a prior screening to book their follow-up appointments.
The OBSP is a well women's screening program that is dedicated to reducing deaths from breast cancer through early detection. Since OBSP's first complete year in 1991/1992, the annual number of screens throughout the province has increased six times from approximately 23,000 to approximately 145,000 in 2000/2001. In 1999, there were 108,520 breast screens performed in Ontario and of those, 610 breast cancers were discovered, representing a cancer detection rate of 5.6 per thousand.
Breast screening is very important in the early detection of cancer. If breast cancer is detected early, it is more likely to respond well to treatment and if treated, is less likely to spread. Women who are 50 years of age and older are encouraged to come to Ross Memorial for breast screening and if they have any questions or concerns about the procedure, staff are always willing to listen and provide information.
RMH is a Breast Assessment Centre
Patients requiring breast imaging and assessment are benefitting from two significant developments that took place in late 2011.
Thanks to the fundraising support of the Dragon Flies Breast Cancer Survivor Group, the hospital was able to purchase specialized breast imaging software that works with the community's new MRI. On October 21st, the Dragon Flies donated $31,250 to be directed toward the purchase of enhanced visualization software and a biopsy console.
This acquisition played a key role in the hospital's successful application to become an accredited Breast Assessment Centre, affiliated with Cancer Care Ontario. Becoming a Breast Assessment Centre brings advantages and services not otherwise available at RMH and will significantly improve timeliness in diagnosis of breast abnormalities, earlier treatment, and increased patient compliance for follow-up care.
Ten percent of women who undergo breast cancer screening require further tests and follow-up. This is an anxious time for patients, and delays in the process or uncoordinated care can be confusing and frustrating.
A key component of this improved service is the new Breast Health Navigator role. The Breast Health Navigator will coordinate the sequence of events from a patient's abnormal screening through diagnosis and referrals, as well as education, counseling, consulting and monitoring. This addition to the RMH team is expected to improve the patient experience.
The hospital is now included in Cancer Care Ontario's High Risk Breast Screening Program, which promotes a comprehensive breast care program for patients whose family history or genetics put them at a higher risk for developing breast cancer.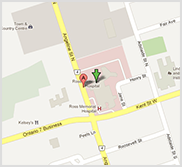 Maps
10 Angeline St. North
Lindsay, ON K9V 4M8
Directions
Floorplans
@RossMemorial
Follow us and stay up to date on news, events and health related issues: