Patient Bill of Rights
At RMH, we are committed to providing exceptional care. We want your hospital stay to be a positive experience. That is why we created our Patient Bill of Rights following several months of consultation with patients, visitors, physicians, staff, community partners and the general public.
As doctors, staff and volunteers, we will:
Introduce ourselves
Be respectful and compassionate
Work with you to plan your care
Communicate with you to ensure you're receiving the best care possible 
Answer your questions and address any concerns you may have as quickly as possible
Verify your identification prior to a procedure or treatment
Ensure you're taking the right medication at the right dosage at the right time
Protect your privacy
Clean our hands regularly to help protect you from infection and instruct others to do the same
Provide and maintain a safe and clean environment 
As patients and visitors, we will: 
Ask questions and communicate concerns
Participate with the healthcare team in treatment decisions
Provide accurate information about our illness and medical background
Designate a spokesperson among family and friends to communicate with our healthcare team
Clean our hands often and encourage others, including healthcare providers, to do the same
Be responsible for our personal property and valuables
Be respectful to doctors, staff, volunteers and other patients 
Respect visiting hours
Make arrangements for discharge when our healthcare team has decided it's appropriate
You are a partner in your health care. Your participation is important.
Please feel free to discuss any concerns you may have with your care team or unit manager, or for more information on our services and policies, please see our "Handbook for Patients & Visitors". 
Click here to download a pdf version of our Patient Bill of Rights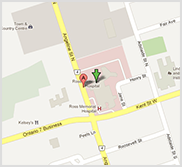 Maps
10 Angeline St. North
Lindsay, ON K9V 4M8
Directions
Floorplans
@RossMemorial
Follow us and stay up to date on news, events and health related issues: