Paying Your Bill, ATMs and Vending Machines
Pay Your Bill Online
Ross Memorial Hospital is happy to offer its patients the convenience of paying their bills online. To pay your bill online, click the link below (it will open in a new browser tab). Make sure you have your statement with you when completing the payment form.
Please be aware that your privacy will be protected. Our online payment system is safe, secure and confidential, and we do not share your information with other organizations.
This is service is compatible with Internet Explorer 6.0 or better. Users of FireFox, Chrome, Mozilla, Safari, Opera or other browsers may be compatible but are not guaranteed to be able to use this feature.
Cashier's Office - Pay Your Bill at the Hospital
Patient accounts may be settled upon discharge with the Cashier, who is located at the main entrance of the hospital. The Cashier accepts payment by cash, cheque, interac and credit card.
The Cashier's Office is open Monday to Friday, from 8am to 4pm. You may contact the Cashier by phone at 705-324-6111 ext 4229.
Automated Teller Machine (ATM)
For your convenience, an ATM is located in our main lobby. There is a transaction fee per use; however, $.50 of the fee is donated to the Ross Memorial Hospital Auxiliary.
Vending Machines
For your convenience, vending machines are located in the Cafeteria, in the Emergency Department, and outside the Laboratory. Cold drink machines are located on all patient floors.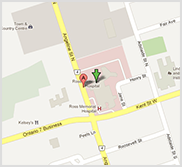 Maps
10 Angeline St. North
Lindsay, ON K9V 4M8
Directions
Floorplans
@RossMemorial
Follow us and stay up to date on news, events and health related issues: