Xray - General Radiography
General Radiography is located on the 1st floor of the Hospital. Patients do not need to make an appointment for most X-ray exams. Appointments may be arranged by calling the Diagnostic Imaging booking desk 705-328-6110 or fax 705-328-7315. For general inquires regarding any examination, call 705-324-6111 ext. 4322.
The X-ray division of the DI Department is staffed 24 hours a day, 7 days a week. Please note that patients are examined based on their urgency and emergency cases take precedence. Outpatients hours are Monday to Friday, 7:00 a.m. to 6:00 p.m. Patients must bring the signed requisition from their physician with them to the Department.
A General Radiography (X-ray) examination uses electromagnetic radiation to produce images of your body. One of the oldest forms of medical imaging, X-ray is a fast, easy and safe way to view and assess conditions ranging from broken bones to pneumonia. For most X-rays, the patient experiences no discomfort other than the hardness of the X-ray table and the coolness of the exam room (necessary to keep equipment from overheating).
The first digital X-ray examination room was installed in the Department in 2002. The Department underwent a major renovation in the fall of 2005, replacing the old analog equipment with new stat-of-the-art digital X-ray equipment. The entire X-ray division is now digital.
X-ray examinations that require an appointment are as follows:
Upper G.I. Series
Small Bowel Follow Through
Barium Enema
Any other procedure involving a Radiologist
Please make note of any preparation required prior to a booked X-ray procedure and follow the instructions carefully. If you are pregnant or suspect that you may be pregnant, inform your doctor and the Technologist before having an X-ray.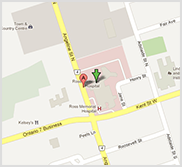 Maps
10 Angeline St. North
Lindsay, ON K9V 4M8
Directions
Floorplans
@RossMemorial
Follow us and stay up to date on news, events and health related issues: