Recreation Therapy
As a member of the health care team, the Recreation Therapy Department assesses, plans, implements, and evaluates therapeutic programs for patients in the Continuing Care Program (including Chronic Complex Care, Rehabilitation and Palliative Care patients). Some of these programs include arts and crafts, cooking, live musical entertainment, garden therapy, outdoor picnics, and more.
Our services are available Monday to Friday during regular business hours. We encourage family and friends to participate with their loved ones in daily programs, special events, and community outings.
We appreciate and value our volunteer support. We are always interested in hearing from those who wish to share their time and talents with us or who wish to work with us in providing innovative recreational programs for our patients.
For more information, please contact our Recreation Therapy team:
Phone: 705-324-6111, ext. 6222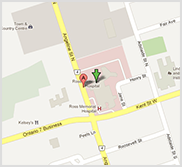 Maps
10 Angeline St. North
Lindsay, ON K9V 4M8
Directions
Floorplans
@RossMemorial
Follow us and stay up to date on news, events and health related issues: