Pre-Operative Assessment Clinic
The Pre-Operative Clinic helps prepare patients for their surgery. All necessary blood tests and other diagnostic tests are completed, and anaesthetic consultations are provided as necessary.
In addition, the Clinic provides staff with an opportunity to educate our patients with regard to their pre- and post- operative care in order to enhance their recovery process.
Patients are asked to bring all medications you are currently taking at home, including any non-prescription drugs you're taking regularly.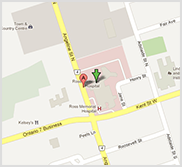 Maps
10 Angeline St. North
Lindsay, ON K9V 4M8
Directions
Floorplans
@RossMemorial
Follow us and stay up to date on news, events and health related issues: