Palliative Care Unit
Palliative Care is health care that focuses on the control of pain and suffering in a patient with a life threatening illness. The goal of palliative care is to maximize a patient's quality of life at the end of life rather than to cure the disease.
Visiting hours for palliative care patients are not restricted. Children are welcome, but must be accompanied by an adult at all times.
Palliative care is based on:
Highly developed medical expertise in pain and symptom management
Timely, responsive, patient centred communications
Interdisciplinary treatment
The Palliative Care unit offers 6 single rooms with excellent privacy and comfort with garden views. The space features a lounge, sleep room pantry and shower facilities for family. The average length of stay is 2 weeks.
The well planned and designed facility, together with the provision of caring and compassionate programs, are helping to provide patients and their families with both the mental, physical, emotional and spiritual support they need.
Patients and their families can expect to:
Be well informed and actively involved in decision making
Have your pain and other symptoms managed
Have your physical and emotional needs sensitively met
Participate in care as much as is comfortable
Feel welcome and comfortable within the surroundings of our facility
The Palliative Pain & Symptom Management Outpatient Clinic provides expert collaborative assessment and recommendations. The clinic operates twice per month.
Frequently Asked Questions
What is Hospice Care?
The terms palliative care and hospice care are often used interchangably. Palliative care is a unique service. It is for any person who is suffering from a chronic or terminal illness and needs supportive care to manage the physical, emotional, psychological and spiritual symptoms of the disease. Its goal is to provide competent and compassionate care for persons diagnosed with a life-threatening illness when the hope of a cure is no longer possible.
According to the Canadian Hospice Palliative Care Association, Palliative Care is defined as "the combination of active and compassionate therapies intended to comfort and support individuals and their friends and families who are living with, or dying from, a progressive life- threatening illness, or are bereaved."
The World Health Organization defines Palliative Care as "active total care of patients whose disease is not responsive to curative treatment. Control of pain, of other symptoms, and of psychological, social and spiritual problems, is paramount. The goal of Palliative Care is achievement of the best quality of life for patients and their families."
The terms Palliative Care and Hospice Care are often used synonymously. Furthermore, Palliative Care:
Affirms life and regards dying as a normal process
Neither hastens nor postpones death
Provides relief from pain and other distressing symptoms
Integrates the psychological and spiritual aspects of care
Offers a support system to help patients live as actively as possible until death
Offers a support system to help family members/significant others cope during the patient's illness and through their own bereavement
When should a person consider Palliative Care?
Some elements of Palliative Care may be needed early; for example, upon diagnosis of a life-threatening illness - a time when apprehension and uncertainty can cause much suffering. The services often include information and supportive care. When curative treatment is no longer possible, Palliative Care professionals help a terminally ill or chronically ill person live as fully as possible, treasuring the moment of each day, and knowing that the pain and other symptoms of advanced disease can be relieved.
What types of palliative care services are available?
The type of care provided depends on the individual, their disease and symptoms, and their personal needs. If the patient is able, many family members prefer to care for their relatives at home with the support of community agencies. Others may need the special services and equipment of a hospital or continuing care centre. The type of palliative service is a decision shared among the person, the family, and health care professionals.
What role does the family play in Palliative Care?
The Palliative Care team is attentive taking family concerns into consideration. Family members and/or close friends are actively involved and are part of the team. This enables families to assist their relative in making informed decisions about treatment and care. Everyone works together to help make the patient comfortable and to relieve suffering.
What is available in our community?
There are two resources available that provide Palliative Care services here in our own community. Ross Memorial Hospital currently offers a Palliative Care program, providing pain and symptom management and terminal care, as well as respite for caregivers. There is also a 6 room unit within the Hospital for Palliative Care.
Hospice Kawartha Lakes, a community agency, also provides Palliative Care services. The agency works closely with the patient and family to provide a healthy support network. The range of services includes in-home respite and support to patients and families, as well as bereavement support. The staff also works with the caregivers at Ross Memorial Hospital to provide in-hospital care to patients and families, as well as support for hospital staff. Palliative Care Victoria maintains an office at Ross Memorial and has an in-hospital liaison available to patients and families at the Hospital.
Who can make a Referral?
Self-referrals are welcome. Referrals can be accepted with the approval of those involved, from physicians, health care professionals, community agencies, families and friends.
Does Hospice Kawartha Lakes provide other information?
Hospice Kawartha Lakes has an up-to-date library of books, tapes and videos that can be borrowed free of charge. Our topics range from caregiver support to grief and bereavement. Staff and volunteers are able to assist you. We also provide displays and speakers to heighten community awareness of our services.
Who should volunteer for Hospice Kawartha Lakes?
They are currently seeking volunteers who are:
Caring, compassionate and are interested in volunteering with our patients and their families
Interested in other volunteer areas such as fundraising, public awareness, phoning
Looking to make a contribution as a gift or in memory of a loved one
How is Hospice Kawartha Lakes funded?
The work of Hospice Kawartha Lakes is supported partially (40%) through funding from the Ontario Ministry of Health and Long-Term Care. The balance is achieved through local fundraising, led by our volunteers, and through the generous donations from the residents of the City of Kawartha Lakes. The funding is required for the co-ordination of services, volunteer training and community education.
How is Hospice Kawartha Lakes organized?
Hospice Kawartha Lakes is an incorporated, non-profit, charitable organization, governed by a volunteer Board of Directors. Serving under the Board is a staff that co-ordinates palliative and bereavement services and the administrative functions of Hospice Kawartha Lakes. Their charitable registration number is 89130 5286 RR0001.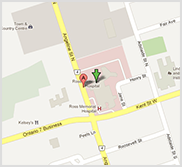 Maps
10 Angeline St. North
Lindsay, ON K9V 4M8
Directions
Floorplans
@RossMemorial
Follow us and stay up to date on news, events and health related issues: