MRI - Magnetic Resonance Imaging
Magnetic resonance imaging (MRI) is a painless, non-invasive diagnostic imaging technology that uses a strong magnetic field and radio frequency (RF) waves to produce images. The scanner creates a magnetic field and sends RF pulses through the body tissues. The tissue response is then measured and an image is created from this information. During the scan loud noises up to approximately 115 dB can be produced, therefore patients must wear ear plugs or a head set to protect their hearing.
MRI scans can provide information about the brain, spine, joints, organs and vessels. MRI can also illustrate differences in tissues that may not be visible with other imaging modalities. Some MR examinations require an injection of Gadolinium to visualize structures more clearly. Gadolinium has a paramagnetic property that makes it appear bright within a magnetic field. It can be helpful in demonstrating vascular structures within tissues.
The Ross Memorial Hospital Diagnostic Imaging Department is equipped with Siemens Espree 1.5 Tesla MRI scanners. The Espree is an open-bore MRI, which means the inner diameter of the machine is wider than all other units. This will enable RMH to accommodate patients with special needs and conditions in a more comfortable setting – patients whose special needs can't be met anywhere else in this part of the province.
The main chamber of the Espree is also shorter than most models, so the majority of tests are done with the patients' heads outside the bore, which reduces anxiety and feelings of claustrophobia.
The Espree has a wide Field of View, reducing the need to change patients' positions and allowing for shorter exam times. The Espree's new technology automatically connects separate views of patients in series, to provide a total-body image in 3D – one that can be rotated in any direction to give our physicians the best view possible.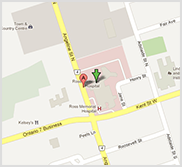 Maps
10 Angeline St. North
Lindsay, ON K9V 4M8
Directions
Floorplans
@RossMemorial
Follow us and stay up to date on news, events and health related issues: