Mammography & Breast Assessment Centre
The Mammography & Breast Assessment Centre is located on the 1st floor. Mammography examinations are only performed with an order from a physician. Appointments are available Monday to Friday. The Mammography desk can be reached at 705-328-6175 or fax 705-328-6188.
Mammograms are special X-rays of the breasts. The film used in Mammography is very sensitive. Patients must not wear perfume, powder or deodorants prior to having exam since the particles in these products will show up on the mammogram film. Compression of the breast is necessary to delineate breast structures and reduce radiation dose.
Screening Mammography involves taking 2 routine views of each breast. Occasionally additional views are necessary to fully examine the breast.
RMH has operated a Breast Assessment Clinic since 2005, however, thanks to the fundraising support of the Dragon Flies Breast Cancer Survivor Group, the hospital was able to purchase enhanced visualization software and a biopsy console that enabled RMH to qualify as an accredited Breast Assessment Centre, affiliated with Cancer Care Ontario.
Becoming a Breast Assessment Centre brings advantages and services not otherwise available at RMH and will significantly improve timeliness in diagnosis of breast abnormalities, earlier treatment, and increased patient compliance for follow-up care.
Ten percent of women who undergo breast cancer screening require further tests and follow-up. This is an anxious time for patients, and delays in the process or uncoordinated care can be confusing and frustrating.
A key component of this improved service is the new Breast Health Navigator role. The Breast Health Navigator will coordinate the sequence of events from a patient's abnormal screening through diagnosis and referrals, as well as education, counseling, consulting and monitoring. 
The hospital is now included in Cancer Care Ontario's High Risk Breast Screening Program, which promotes a comprehensive breast care program for patients whose family history or genetics put them at a higher risk for developing breast cancer.
The Mammography division is fully accredited by the Canadian Association of Radiologists.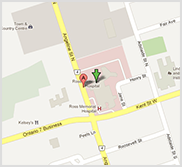 Maps
10 Angeline St. North
Lindsay, ON K9V 4M8
Directions
Floorplans
@RossMemorial
Follow us and stay up to date on news, events and health related issues: