Infection Prevention & Control
The goal of Ross Memorial Hospital's Infection Prevention and Control program is the prevention of infections in Hospital patients and staff and the control of infections should they occur.
Infection Control Precautions
To prevent the spread/transmission of infections to other patients, staff and the hospital environment, it is sometimes necessary to place patients in Isolation Precautions. This may mean relocating the patient to a special isolation room, with an Isolation Precautions sign placed at the entrance to alert all staff, doctors and visitors that they must wear a gown and gloves or a mask (depending on the infection or bacteria).
If a patient is placed in a room marked Isolation Precautions, visitors will be asked to follow the instructions of staff and may be asked to wear a gown, gloves, or mask, depending on the situation. It is important that the gown and gloves or mask are removed before the visitor leaves the room.
When leaving the isolation room, hands must be washed after the removal of gown and gloves (and mask as needed), which prevents the spread of infections into the hospital environment.
These precautions remain in place until there is no risk of the infection spreading to others.
Handwashing
Handwashing is the single most important procedure you can do to help minimize your risk of infection. Be sure to help prevent infections from being spread by washing your hands frequently.
Many Infections Can Be Prevented by Handwashing!
Leanne Harding, RN, CIC, Coordinator of Infection Control can be reached at 705-324-6111, extension 4508.
Click on one of the links in the "More Menu" to the right for more information on Infection Prevention & Control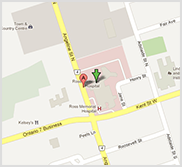 Maps
10 Angeline St. North
Lindsay, ON K9V 4M8
Directions
Floorplans
@RossMemorial
Follow us and stay up to date on news, events and health related issues: