Computed Tomography (CT) Scan
The CT Suite is located near the emergency department on the 1st floor. For any questions regarding appointments or for general inquires call the CT desk 705-328-6196 or fax 705-328-6197.

Computed Tomography (CT) is often called "CAT Scan" and uses X-rays and a computer to produce 2-dimensional and 3-dimensional images of the body. The patient lies on a movable table that moves through the gantry (a doughnut shaped unit which contains the X-ray tube and detectors to capture the radiation passing through the patient). 
With the help of local donors, the Ross Memorial Hospital was able to purchase a new 128-slice CT scanner in 2011. The new CT scanner has enhanced quality that leads to more definitive diagnostic outcomes with less radiation exposure. 
The CT division offers booked examinations from approximately 8:00 a.m. to 4:00 p.m. weekdays, however, coverage for emergency patients is provided on an "on-call basis" 24 hours a day, 7 days a week. This may cause some delays in booked appointments weekdays, and staff endeavors to stay on schedule. We appreciate your patience.
The ordering physician sends a requisition for a CT scan directly to the CT division. After the order is reviewed and coded by a Radiologist, the CT Booking Clerk books the patient's appointment. Please make note of any preparation required prior to a CT procedure and follow the instructions carefully.
If you are pregnant or suspect that you may be pregnant, inform your doctor and the Technologist before having a CT Scan.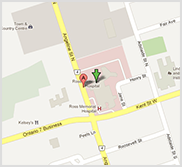 Maps
10 Angeline St. North
Lindsay, ON K9V 4M8
Directions
Floorplans
@RossMemorial
Follow us and stay up to date on news, events and health related issues: