Working with and for our community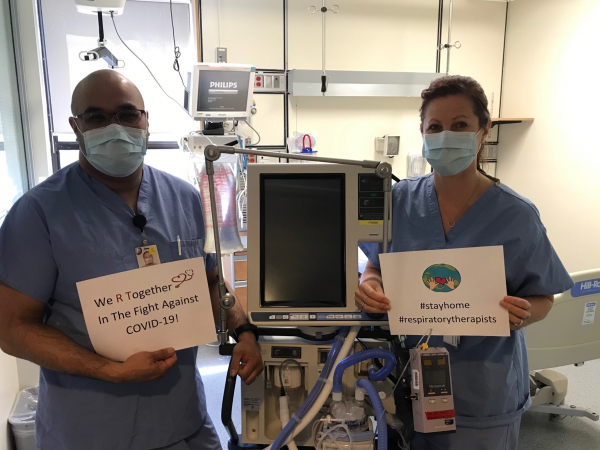 Ross Memorial Hospital continues to receive exceptional support from our community. "The most important thing that everyone can do in the fight against COVID-19 is to follow the advice of our public health officials by staying home," says Kelly Isfan, President and CEO. "If you must leave your home for essential reasons, practise physical distancing and good hand hygiene."
Homemade masks
Members of the public have shown great interest in making homemade masks to support our community in the fight against COVID-19. If you sew and would like to donate a homemade mask, please visit our foundation website.
These masks are not for patient-facing staff, but are available for patients heading home from hospital.
There are some circumstances in which a cloth mask may be appropriate, including when a person is out in the community and unable to maintain physical distancing (such as in a grocery store or on public transit). There is no real evidence of the impact of homemade masks in preventing community spread, or in protecting oneself. While masks may reduce the frequency of an individual touching their nose or mouth, this potential positive effect is also tied to good hand hygiene.
There are many ways to show your support to the RMH team:
We continue to accept donations of unopened/unused surgical masks, N95 respirator masks, gloves, and waterproof gowns to support our front-line workers. Please contact Marc Sorensen at msorensen@rmh.org or 705-324-6111 ext. 8952 to arrange your donation during regular business hours.
Ross Memorial Hospital Foundation has established a special fund, called Heroes at Heart, to support urgent equipment and technology needs as the Ross responds to the pandemic. To support the COVID-19 response at RMH, please give to our Heroes at Heart fund by phone (705-328-6146), by email (foundation@rmh.org) or online (www.rmh.org/foundation).
RMH's pandemic strategy continues to evolve, based on current and anticipated needs of our community. We have taken a number of steps in the past few weeks, including:
Opening a COVID-19 Assessment Centre, which has to date, provided 2070 assessments and 665 tests.
Establishing a dedicated unit for the care of patients with probable or positive COVID-19. We are currently caring for 2 patients who have tested positive for COVID-19.
Creating capacity for a potential surge of inpatients, with up to 103 beds available by May, if needed.
Contingency planning for an off-site care setting, should demand exceed hospital capacity.
Running a successful campaign to accept PPE donations. Our thanks to the many organizations that have provided PPE to support our team.
Resources for our community: