Ross Memorial Hospital's evolving response to COVID-19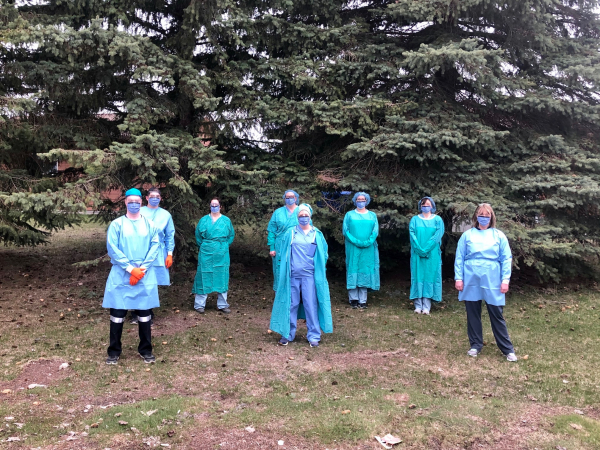 (Lindsay, ON) – Ross Memorial Hospital continues to evolve its pandemic response based on Provincial direction and our community's needs. This week, RMH will launch a team to support long-term care, retirement and congregate living facilities with infection prevention and control (IPAC) education; staffing; and mobile COVID-19 assessment and testing. The hospital has piloted some mobile testing and IPAC education services and is working with the HKPR public health unit, Kawartha Lakes Paramedic Services and local long-term care facilities on next steps.
COVID-19 Assessment Centre
The RMH COVID-19 Assessment Centre is available at 705-328-6217, from 8am-4pm daily. Testing is by appointment, at the Lindsay Exhibition. The hospital continues to work with local paramedics to provide in-home appointments for those who are unable to get to the exhibition grounds. Community members are encouraged to call the assessment centre if they are experiencing new onset of any of the following symptoms (even if mild):
Fever/chills
Cough
Shortness of breath
Sore throat
Runny nose
Nasal congestion

Difficulty swallowing
Unexplained fatigue
Unexplained headache
Joint/muscle aches
Loss of taste or smell
Outbreak update
The Continuing Care Program – CCP1 unit remains closed to visitors and admissions following the declaration of an outbreak on April 17. Following testing of all patients and staff on the unit, and close contacts, it was determined that the outbreak is limited to 1 positive patient and 1 positive staff member. While it was previously shared that 2 staff were positive in relation to this outbreak, contact tracing showed that the second positive result was unrelated to the outbreak.
By the numbers
Current positive inpatients: 2
Positive cases related to CCP1 outbreak: 1 patient; 1 staff member
Total assessments: 3109
Total tests (assessment centre & in-home): 1228
Thank you for your support
RMH would like to thank the community for their incredible support. The hospital has received countless messages about ways to support the team during this pandemic. The most important way you can support the hospital and the entire community is by preventing the spread of COVID-19. Stay home, clean your hands and practice physical distancing if you must leave your home for an essential trip. As a reminder, the hospital cannot accept food donations.
Here are a few other ways to support RMH:
Anyone who would like to contribute to the hospital's efforts during the COVID-19 pandemic is encouraged to make a donation to the RMH Foundation. Visit rmh.org/foundation or call 705-328-6146.
See our instructions for making and donating homemade masks (not for healthcare workers).
Donate Personal Protective Equipment (unopened/unused surgical masks, N95 respirator masks, gloves, and waterproof gowns). Please contact Marc Sorensen at msorensen@rmh.org or 705-324-6111 ext. 8952 to arrange your donation. Thank you to all of the donors so far. You are helping our hospital team and allowing us to share PPE with our community partners, including primary care, paramedics and several health facilities.
Stay up-to-date
Positive cases continue to be reported on our health unit's website: www.hkpr.on.ca.
Information specific to RMH at rmh.org/covid-19.
-30-
For more information, contact:
Amanda Carvalho, Communications and Public Affairs Officer
Ross Memorial Hospital
acarvalho@rmh.org 705-328-4548