RMH Volunteer receives Human Touch Award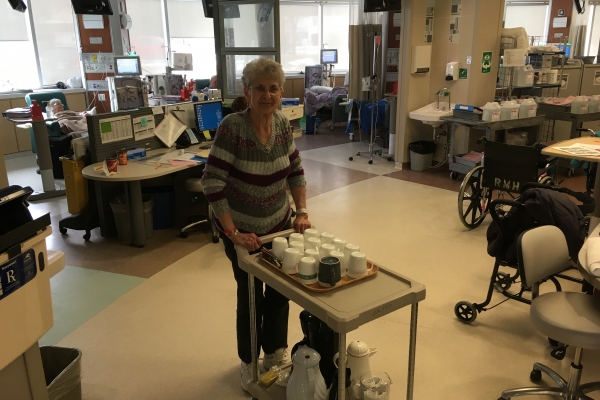 Vera Buckingham, volunteer at Ross Memorial Hospital's Dialysis Unit, was recognized for going above and beyond to enhance the experience of patients receiving dialysis treatments.
The 11th annual Human Touch Awards took place on April 20, 2017, honouring 10 healthcare professionals and volunteers from across Ontario who have made a positive impact in the cancer and kidney care communities. Presented by Cancer Care Ontario and the Ontario Renal Network, the Awards recognized those who have gone the extra mile to truly provide the 'human touch' by offering support, guidance and encouragement, and lifting the spirits of the patients and families they encounter.
When her husband began dialysis treatments in 2012, Vera became part of the family in the Dialysis Unit. Her involvement went from caregiver support to active volunteer two years ago when she stepped up to provide coffee and snacks to patients and families during treatments. Each day she comes in and prepares a healthy treat cart – never missing a day.
"Sadly Vera's husband passed away this fall and she had no reason to keep coming back to the unit, but after a two month break she had missed her dialysis family, spending time with the staff, other patients, and their families - she asked if we would have her back!" said Beverlee Groves-Foley, Dialysis Unit Manager. "I can't tell you the number of happy faces in the unit that welcomed her back. She tells us she missed her family!"
The Human Touch Awards were created to highlight the importance of providing emotional support to people with cancer and kidney disease, in addition to the medical treatment they already receive. The Awards also showcase the incredible work taking place across the province each day by committed, dedicated and compassionate healthcare professionals and volunteers. Since its inception in 2007, over 80 healthcare professionals and volunteers from Ontario's cancer and kidney care communities have been recognized with a Human Touch Award.
"Healthcare professionals and volunteers play essential roles in Ontario's cancer and kidney care systems," says Michael Sherar, President and CEO of CCO. "It is important to recognize the individuals who go the extra mile to make a lasting impact in the lives of patients and their families. The celebration of their dedication and commitment helps promote efficient, safe, high-quality and compassionate care for all Ontarians."
Ross Memorial Hospital, Cancer Care Ontario and the Ontario Renal Network acknowledge the generous support of the Canadian Cancer Society, Ontario Division, the Kidney Foundation of Canada, Ontario branch and the RBC Foundation, sponsors of the 11th annual Human Touch Awards. The partnerships between Cancer Care Ontario, the Ontario Renal Network, the Ministry of Health and Long-Term Care, and other organizations, health professionals, front-line care providers and volunteers make up the regional renal program that are essential to providing and maintaining high-quality healthcare in the province.
For more information on the Human Touch Awards, including high-resolution images and a complete listing of 2017 award recipients, visit www.cancercare.on.ca/humantouch or www.renalnetwork.on.ca/humantouch.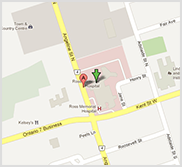 Maps
10 Angeline St. North
Lindsay, ON K9V 4M8
Directions
Floorplans
@RossMemorial
Follow us and stay up to date on news, events and health related issues: