RMH congratulates recipients of the James Ross Awards of Excellence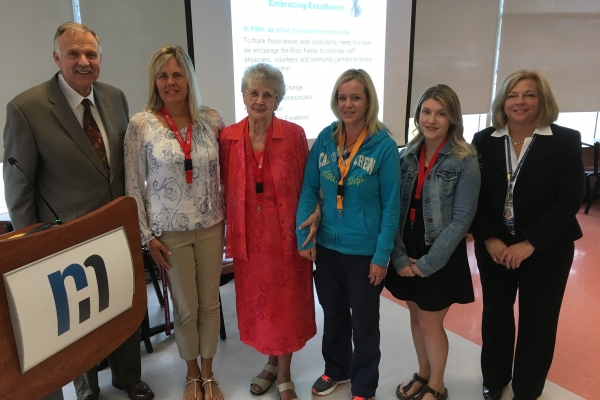 Since 2001, Ross Memorial Hospital has been recognizing exceptional effort with the James Ross Awards of Excellence. In 2016, it was suggested the award program needed refreshing.
So with input from staff, physicians and volunteers, changes were made.
Instead of choosing a champion from the various teams (e.g. nursing, physician, support), we now recognize excellence using the original James Ross award criteria. Members of the RMH team (employees, physicians, volunteers, patients/family, community partners) may nominate peers throughout the year to be recognized for being:
* Champions of Change * Team players
* Respectful Communicators * Dedicated to Excellence
These awards are now presented both in the spring and the fall.
RMH is proud to celebrate the accomplishments of the following award recipients, announced on June 15, 2017:
Champion of Change:
Dr. Gabriel Chan – Internal Medicine
Dr. Jeremy Jones – Internal Medicine

Dedicated to Excellence:
Vera Buckingham – Auxiliary
Lesley Campbell RN – Dialysis
Della Hare NP – Health First
Catherine Moore RN – Emergency
Emily George RN – Surgical/OBS
Sheila Moloney RN – Surgical/OBS
Dr. Bharat Chawla – Medical Chief of Staff *
Respectful Communicator:
Shawn Lacey RPN – Surgical
Team Player:
Jennifer Perdue RPN – CCP2
Dr. Ali Albeer – OR
Dr. Charles Noronha – OR
Dr. Farid Guirguis – OR
Rosemary Wright – CCP
Kathleen Kenning – Pharmacy *
* These recipients were listed in the award presentations in November but were unable to attend the ceremony at that time.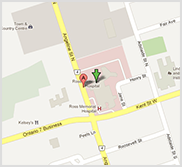 Maps
10 Angeline St. North
Lindsay, ON K9V 4M8
Directions
Floorplans
@RossMemorial
Follow us and stay up to date on news, events and health related issues: