RMH cancer care recognized for best wait times in Ontario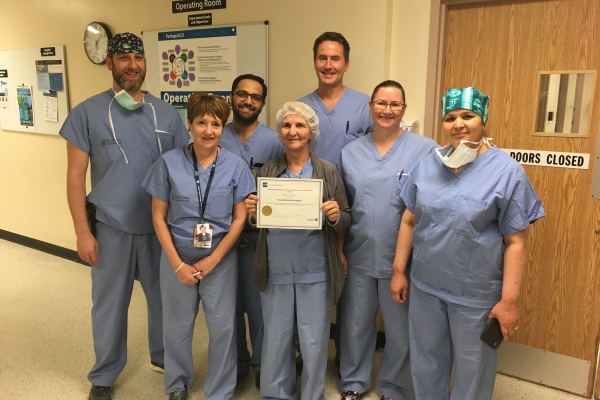 October 7, 2019 - A cancer diagnosis is a frightening, life-altering experience. Receiving timely access to care is of paramount importance.
Ross Memorial Hospital's Peri-operative Team understands patients' anxiety and the need to expedite referrals to specialist consultation and treatment.
This fall, the team is proud to be recognized by Cancer Care Ontario (CCO) as the Top Performing Hospital for Cancer Surgery Wait Times—Time from Referral to Consult.
CCO issued congratulations to the RMH team for achieving the lowest wait times in the province from referral to consultation with a surgical oncologist within all priority categories.
The four priority categories and wait time (access) targets for oncology procedures are:
Priority 1 (Access Target: within 24 hours) High suspicion of cancer or biopsy positive for cancer where patients have severe life or limb threatening symptoms
Priority 2 (Access Target: within 10 days) High suspicion of cancer or biopsy positive for cancer where patients have high likelihood of having highly aggressive malignancies
Priority 3 (Access Target: within 21 days) Patients with high suspicion of cancer that do not meet the criteria of priority 2 or 4
Priority 4 (Access Target: within 35 days) Patients with an intermediate level for suspicion of cancer or patients with biopsy positive cancer but with a high likelihood of indolent (inactive) malignancies
"Ensuring our patients have the fastest access to care is a team effort, including our staff, our surgeons, and their community office staff," said Lori Shier, Manager of the Peri-operative Suite and Ambulatory Care Unit at RMH. "It's our goal to provide exceptional quality patient care and experiences, and we're proud to be a top performer in cancer care for our community."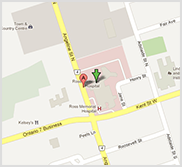 Maps
10 Angeline St. North
Lindsay, ON K9V 4M8
Directions
Floorplans
@RossMemorial
Follow us and stay up to date on news, events and health related issues: