HealthForceOntario helps RMH recruit two new Hospitalists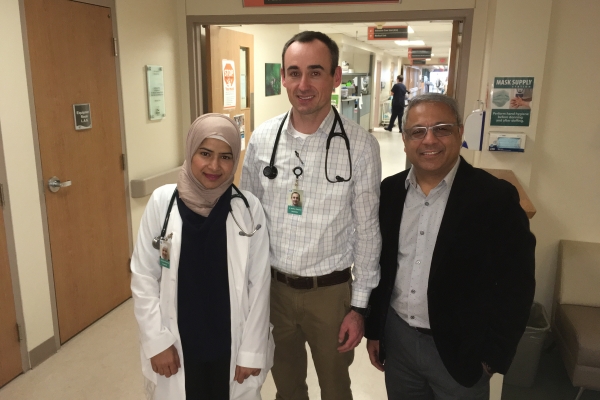 February 13, 2019 - Ross Memorial Hospital (RMH) is pleased to welcome two new physicians to our team of Hospitalists. A Hospitalist is a doctor who looks after hospitalized inpatients who don't have a family physician or whose physicians don't have privileges in this Hospital.
Dr. Sadia Munawar and Dr. Nathan Shepard began working at RMH last fall. Before moving to Lindsay, Dr. Munawar was practising in Maine and Dr. Shepard was practising in Alabama. The physicians' have family connections in Ontario, which prompted their interest in relocating from the United States.
This is welcome news at the Ross Memorial. The Hospital has experienced a shortage of Hospitalists for the past few years.
The recruitment of both physicians was the result of a collaborative effort by the Ross Memorial Hospital and HealthForceOntario, a government agency that supports physician recruitment and retention. Recruitment efforts included arranging tours of the Hospital and community, completing a Labour Market Impact Assessment application (which demonstrates need for foreign workers), and assisting with work permit applications.
"Without HealthForce Ontario, I would never have found the open position at Ross Memorial Hospital," said Dr. Shepard. "I was planning a move to Ontario, but was completely unfamiliar with the area. HealthForceOntario's website made it very easy to search the type of job I was interested in, as well as which openings provided the supervision required as a physician trained outside of Canada. The administration at Ross Memorial then went above and beyond in assisting me with the necessary documentation and assessments to obtain my work permit and licensure. I have been truly impressed with the teamwork involved in ensuring access to high quality medical care for the people of Ontario."
Dr. Munawar is also excited to be part of the Ross Team. "The Labour Market Impact Assessment application was completed by the Chief of Staff's office in consultation with HealthForceOntario. The process is very arduous. I'm grateful for the partnership between RMH and HFO to make the transition from the U.S. to Canada as smooth as possible."
"The Hospitalist Program is the backbone of our Hospital," said Dr. Bharat Chawla, Medical Chief of Staff at RMH. "It's with great pleasure that I welcome Dr. Sadia Munawar and Dr. Nathan Shepard as new additions to our highly competent, dedicated and hardworking Hospitalist team, to ensure provision of ongoing high quality services to our patients. I would also like to thank HealthForceOntario for collaborating with Ross Memorial Hospital to fill this much needed gap."
"HealthForceOntario was pleased to work in partnership with Ross Memorial Hospital to recruit two new Hospitalists," said Roz Smith, Executive Director of HealthForceOntario. "Significant work goes into the physician recruitment process and it's very rewarding to see the results of patients having improved access to care."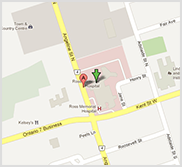 Maps
10 Angeline St. North
Lindsay, ON K9V 4M8
Directions
Floorplans
@RossMemorial
Follow us and stay up to date on news, events and health related issues: