Celebrating a Decade of Dialysis Care at RMH
In April 2007, the Ross Family celebrated the opening of a temporary dialysis unit — a satellite of the Peterborough Regional Renal Program. Located in a room on the Medical Unit, it was tight quarters holding six chairs and six dialyzers — but it had an enormous impact on local patients who had been travelling outside of the region for their care.
With the approval of the Ministry of Health & Long Term Care to provide dialysis service at the Ross, the community rallied to help construct a permanent home for these patients. The new Unit opened in September 2008 and welcomed 48 patients. Local donors' generosity through the On the Horizon capital campaign helped the RMH Foundation raise more than $2.2 million toward the total cost of the project.
Ten years later, the RMH Dialysis Team and the Peterborough Regional Renal Program are celebrating a decade of dialysis care with a special event Wednesday, April 12th between 2pm and 4pm.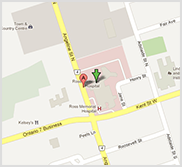 Maps
10 Angeline St. North
Lindsay, ON K9V 4M8
Directions
Floorplans
@RossMemorial
Follow us and stay up to date on news, events and health related issues: