Ultrasound
Ultrasound is located on the 1st floor of the Hospital. Appointments may be arranged by calling the Diagnostic Imaging booking desk 705-328-6186 or fax 705-328-6188. For general inquiries regarding any examination, call 705-324-6111 ext. 4322.
Ultrasound uses high frequency sound waves to image a variety of structures within the body.
Preparation is very important for some Ultrasound examinations. For example, if the bladder is not full, the sonographer is unable to image pelvic structures. Please follow preparation instructions carefully.
Examinations are done by appointment only with an order from a physician. Appointments are available weekdays during regular business hours. The Ultrasound division provides an "on-call" service outside of regular working hours for emergency examinations.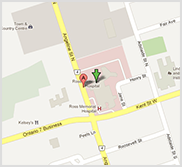 Maps
10 Angeline St. North
Lindsay, ON K9V 4M8
Directions
Floorplans
@RossMemorial
Follow us and stay up to date on news, events and health related issues: