Medical Assistance in Dying
Since June 2016, Ross Memorial Hospital has been accommodating patients' wishes for Medical Assistance in Dying (MAiD) in accordance with legislative, ethical and professional obligations.
Medical Assistance in Dying is a medical treatment that could potentially be provided in any area of the Hospital or in a person's home. It is not the same as palliative care, which focuses on the control of pain and suffering in a patient with a life threatening illness, maximizing quality of life leading to a natural death.
RMH has a MAiD Steering Committee, which has studied the legislation and directions from the professional colleges, and has prepared policy and procedure guidelines, as well as information for patients and their families.
Understandably, the Hospital's policy involves many steps to ensure a patient is eligible to receive the service and capable of understanding the implications. It includes safeguards to protect the patient and those involved in providing the service.
Information that RMH has prepared for patients and their families emphasizes that people who choose to have a medically assisted death may change their minds at any point. It also provides a list of questions to consider and recommendations including discussions with legal counsel and insurance representatives.
The RMH Steering Committee is pleased to work with all community healthcare partners in an attempt to ensure that local patients' wishes are respected and they receive coordinated care wherever they choose to receive Medical Assistance in Dying. This area of treatment will continue to evolve as further direction and guidance is provided from provincial bodies, including the Ministry of Health & Long Term Care.
Ministry of Health & Long Term Care - Info about MAiD
Anyone with questions about this service is encouraged to speak to his or her physician or nurse practitioner, or contact Anne Overhoff, RMH Vice President Patient Care & Chief Nursing Officer at 705-328-6074 or aoverhoff@rmh.org.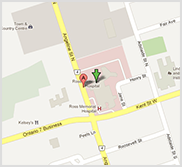 Maps
10 Angeline St. North
Lindsay, ON K9V 4M8
Directions
Floorplans
@RossMemorial
Follow us and stay up to date on news, events and health related issues: