Echocardiography
Echocardiography is located on the 1st floor of the Hospital. Appointments may be arranged by calling the Diagnostic Imaging booking desk 705-328-6186 or fax 705-328-6188. For general inquiries regarding any examination, call 705-324-6111 ext. 4322.
Echocardiography is a special type of Ultrasound to image the heart.
Please follow preparation instructions carefully.
Examinations are done by appointment only with an order from a physician. Appointments are available weekdays during regular business hours.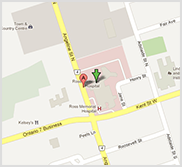 Maps
10 Angeline St. North
Lindsay, ON K9V 4M8
Directions
Floorplans
@RossMemorial
Follow us and stay up to date on news, events and health related issues: