RMH First in Ontario to Use New Hip Replacement Implant Technology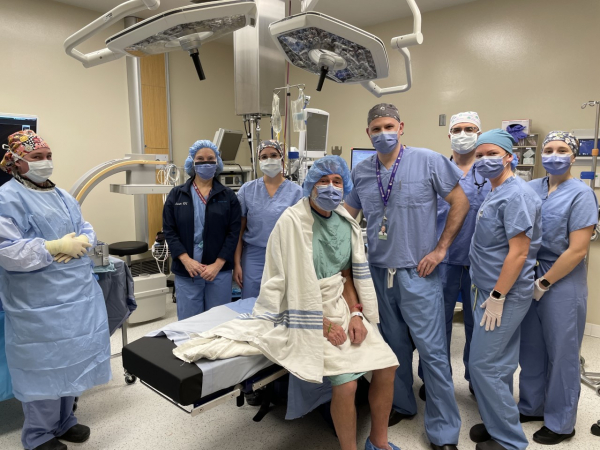 FOR IMMEDIATE RELEASE
February 21, 2023
(Lindsay, ON) – Ross Memorial Hospital is the first hospital in Ontario to use an Insignia femoral stem implant in hip arthroplasty surgery.
Dr. Sebastian Heaven, an Orthopaedic Surgeon at Ross Memorial Hospital (RMH), performed the inaugural surgery on February 15, 2023.
The new Insignia femoral implant stem was recently approved by Health Canada.
According to Dr. Heaven, there is increasing movement towards using collared stems in hip replacements that don't use cement, which is the majority in Canada and the United States, due to some large registry databases showing improved survival of these implants as compared to their collarless versions. Ultimately, this translates to a lower likelihood of needing a second surgery after hip replacement when using this technology.
RMH conducts around 150 hip replacements annually. Dr. Heaven foresees the majority of them using the Insignia femoral stem implant moving forward.
Quotes
"The implant we've used has some unique proprietary design features that are all geared towards maximizing the probability that the implant is stable and grown onto by the patient's own bone - functionally making it a part of their body. Collared stem design and its behaviour after implantation when compared to collarless designs was also the topic of my master's thesis, so it's an area of particular interest for me. I'm delighted our smaller, rural hospital can be at the forefront of available hip implant technology."
- Dr. Sebastian Heaven, Orthopaedic Surgeon at Ross Memorial Hospital
"Delivering on the promise of a better healthcare experience is at the heart of what we do at Ross Memorial Hospital. We are very proud of Dr. Heaven for embodying that mission and being a leader when it comes to hip replacements in Ontario."
- Kelly Isfan, President and CEO at Ross Memorial Hospital
Additional Links
-30-
For more information:
Ryan Young
Communications and Public Affairs Officer
Ross Memorial Hospital
M: 705-328-4548