Highlighting heart health with Walk of Life and Heart Failure Awareness Week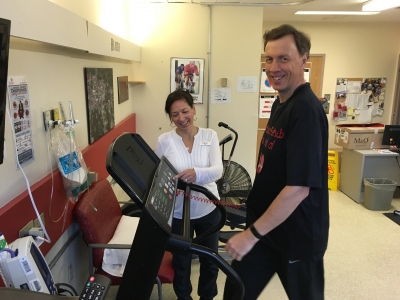 May 1, 2019 - Brad Lloyd was sure he had pneumonia in the fall of 2017. His lungs were congested and he was exhausted all the time. He took antibiotics but months later, he was still unwell.
When he returned to his doctor, he mentioned that despite feeling tired all the time, he couldn't sleep. That comment triggered further investigation into Brad's heart health.
Brad was shocked to learn that he had contracted a virus that damaged the muscle in his heart. He was diagnosed with severe cardiomyopathy and began seeing a specialist for care.
He also began Cardiac Rehabilitation at Ross Memorial, visiting once per week to learn how to exercise safely, watching for symptoms of trouble, and learning how to adjust his daily activity to stay well.
"Every week I had a question and the team is a wealth of information," said Brad. "This has all been a real head game and cardiac rehab has given me more confidence. You never know when something like this can come along. One day, you're healthy and strong and doing all the right things … you never know when something like a virus will change that. Having the program and resources available is invaluable."
Due to Brad's risk for cardiac arrest, the Cardiac Rehab team connected with Kawartha Lakes EMS to arrange the loan of a portable automated external defibrillator (AED). This has allowed him to begin working again, albeit with lift limits and orders never to be alone.
Brad is grateful for the support the community shows for cardiac and pulmonary services at Ross Memorial Hospital and thanks everyone participating in the Walk of Life on May 3.
Prior to the official walk that begins at RMH at 2:00pm, participants will have the opportunity to discuss community exercise opportunities from partners including the Community Health Centre (SAGES exercise program, Nordic pole walking, Get WITH It hall walking program), the CKL Family Health Team (mall walking), and CKL Parks and Recreation (Heart Wise programs include Retreads Relocated, Huff and Puff, Gentle Exercise and Chair Yoga).
The Walk of Life will help to launch Heart Failure Awareness Week, which runs May 6-12.
Walk of Life Donation Form 2019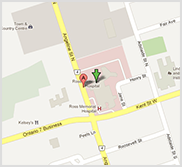 Maps
10 Angeline St. North
Lindsay, ON K9V 4M8
Directions
Floorplans
@RossMemorial
Follow us and stay up to date on news, events and health related issues: