Cardiac Care at the Heart of Local Health Fair
The Ross Memorial Hospital's Cardiac Rehabilitation team and the Kawartha Lakes Paramedic Service are inviting the public to a Health Fair with a focus on heart health. The event will take place Wednesday, February 22nd between 11am and 2pm at the Ross Memorial Hospital in the main lobby.
CPR demonstrations and hands-on practice
Blood pressure testing using the new BP True (it takes six readings for accuracy)
Understand the use of defibrillators in the community (and at home)
Learn about the 'Code Stemi' program (certain symptoms result in patients' transport directly to PRHC for immediate intervention by a cardiologist)
Understand why you should always call 911 (taking the car is taking a risk)
Get a Patient Medical Information card for your refrigerator (it could save your life)
Enter a draw for a home CPR kit or a FitBit
Meet your local heart-health team from the Ross Memorial, CKL Paramedics and the Heart & Stroke Foundation
This event is free and open to all. Parking in the Hospital's long-term lot will be free during the Health Fair.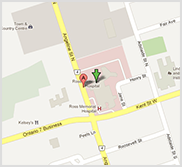 Maps
10 Angeline St. North
Lindsay, ON K9V 4M8
Directions
Floorplans
@RossMemorial
Follow us and stay up to date on news, events and health related issues: