Heart Failure Clinic
We provide patients the following:        
Individual appointments
Education series
Telephone monitoring and support
Physician Clinic
Support Group
Our team, comprised of a doctor and cardiovascular nurse, will work with you and your doctor/nurse practitioner to ensure you get the best possible care for managing your heart failure.

Hours of Operation: Monday to Friday (excluding Wednesday) from 8:30am to 4:30pm
Phone number: 705-328-6091
Doctor Clinic: Every other Friday from 2:00pm to 4:00pm
What you need to know
Who can participate?
Anyone who has been diagnosed with heart failure by his or her family doctor/specialist or who has been admitted to hospital with heart failure can participate.

How do I register?
Your family doctor/nurse practitioner or specialist must refer you to the Heart Failure Clinic. The service is free of charge. Click here for the Health First Referral Form.
When are the clinics?
The Physician Clinic is available twice monthly on Fridays from 2:00pm to 4:00pm.
The program hours with the Nurse for telephone follow-up or outpatient appointments are Monday - Friday (excluding Wednesday) from 8:30am to 4:00pm.
What education classes are offered?
All clients have access to the Health First Learning Opportunities. Click here to return to Health First home page for Learning Opportunities.
What should I bring to my appointment?
Red Hospital Card
Reading glasses, hearing aid if needed
ALL medications in their original bottles, prescribed and over-the-counter, including herbals and vitamins
Friend or family to accompany you
Where is it located?
The Heart Failure Clinic is located at Ross Memorial Hospital on the third floor entering off Kent Street. Take the BLUE elevators to the third floor, turn right off the elevator, and then turn left into the Health First unit.
Where can I get more information on Heart Failure?
Canadian Heart Failure Network:  http://www.chfn.ca/
Heart Failure Society of America:  http://www.hfsa.org/
Heart and Stroke Foundation of Canada:  http://www.heartandstroke.ca/
Heart Failure Association of the ESC:  http://www.heartfailurematters.org/
Community Care Support Group
Thie Support Group offers ongoing education and fellowship for people experiencing heart failure, as well as their families and caregivers. It is held on the last Tuesday of each month from 1:30pm to 3:00pm at 65 Melbourne Street, Lindsay in the Community Room.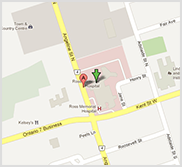 Maps
10 Angeline St. North
Lindsay, ON K9V 4M8
Directions
Floorplans
@RossMemorial
Follow us and stay up to date on news, events and health related issues: