Clinical Case-Management Program
The Clinical Case-Management Program offers services to assist clients over the age of 16 with long-term mental illness to develop the necessary skills to live, learn and work in their home environment.
This program assists individuals with housing, work or alternate activities, education, formal and informal supports, socialization, illness management, and counselling/rehabilitation needs.
Principles of Case Management
At Community Counselling, we believe that:
People are experts about their own lives and can make changes.
People are entitled to needed resources, i.e. affordable and decent housing.
Psychiatric difficulties, trauma, and abuse are relevant.
Many people with a long-term mental illness need flexible support.
Families and other social supports can be valued resources.
The Case Manager's Role
Building one-on-one, long-term relationships with clients

Completing assessments and individual service plans, in consultation with clients

Making home and community visits

Providing support, education, and counselling

Linking with community services and resources

Teaching and enhancing skills/coping strategies

Advocacy

Helping clients to manage crises

Monitoring illness

Providing flexible support

Working with families and other supports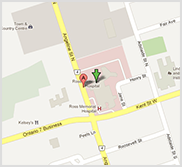 Maps
10 Angeline St. North
Lindsay, ON K9V 4M8
Directions
Floorplans
@RossMemorial
Follow us and stay up to date on news, events and health related issues: