Ross Memorial Hospital is committed to the continual improvement of access to hospital facilities, policies, programs, practices and services for patients and their family members, staff, health care practitioners, volunteers and members of the community with disabilities.
Download the RMH Accessibility Plan
For more information or questions regarding the accessibility plans, please contact the Public Relations Office at 705-324-6111 ext. 6246 or email publicrelations@rmh.org.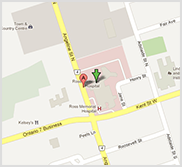 Maps
10 Angeline St. North
Lindsay, ON K9V 4M8
Directions
Floorplans
@RossMemorial
Follow us and stay up to date on news, events and health related issues: