Diabetes Education Team
Certified Diabetes Educators
Our expertly trained, nationally certified educators and certification-eligible clinicians include diabetes nurse educators and dietitians. You can see these specialists one-on-one, or get the information and motivation you need through a variety of programs and classes. They work together as a team to provide coordinated sequenced learning activities.
Diabetes Nurse Educators
Diabetes nurse educators provide excellent patient care, perform health and learning assessments, develop and update your individualized self-management education plan.
They will teach you management skills, including:
Blood glucose monitoring and how to handle sick days
How to treat your diabetes when traveling across time zones
How to recognize and treat low or high blood glucose
How to begin an intensive diabetes program or use an insulin pump and other new technologies
Diabetes Dietitian Educators
Registered dietitians are outstanding leaders in the field of nutrition and diabetes care. They are certified diabetes educators who offer individual counseling and group education classes that promote healthful food behaviours and skills at a basic and advanced level. Nutrition educators effectively address the challenges of weight control, modify food choices based on your medical history, and keep you up to date on the latest diabetes and nutrition information based on the best available research.
Clerical Staff
Our friendly clerical staff call and schedule appointments and direct phone calls to the appropriate health professional.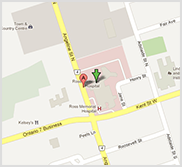 Maps
10 Angeline St. North
Lindsay, ON K9V 4M8
Directions
Floorplans
@RossMemorial
Follow us and stay up to date on news, events and health related issues: