Ross Memorial, Kawartha Lakes Paramedic Services launching Fit2Sit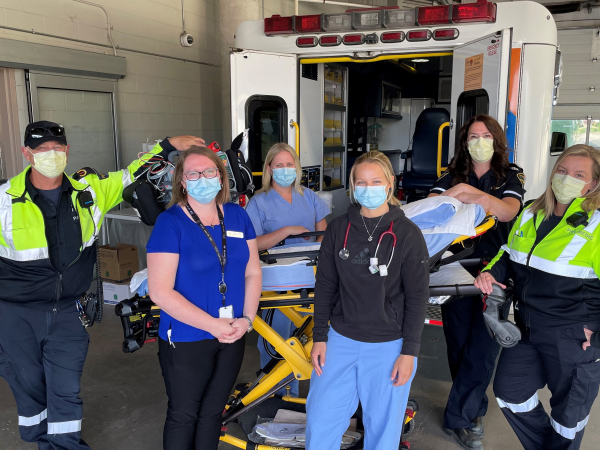 FOR IMMEDIATE RELEASE
May 24, 2022
Ross Memorial, Kawartha Lakes Paramedic Services launching Fit2Sit
(Lindsay, ON) – Ross Memorial Hospital and Kawartha Lakes Paramedic Services are partnering to implement a new program called Fit2Sit beginning on May 30 that will help reduce delays and allow paramedics to get back into service within the community faster.
When a patient arrives at the hospital via ambulance, paramedics must wait until they can transfer care to hospital staff. While that process typically happens fairly quickly, paramedics sometimes encounter delays with low-acuity patients—patients with less-severe injuries or conditions.
The Fit2Sit program will allow paramedics, in consultation with the Ross Memorial Hospital's Emergency Department (ED) triage nurse, to transfer low-acuity patients directly to the ED waiting room. Not only will the initiative allow paramedics to return to the community quicker, it will help reassure patients are receiving care based on their acuity level.
The Kawartha Lakes Paramedic Service has experienced an unprecedented increase in emergent and urgent call volume of 15 per cent in 2021. They received 13,422 calls for service in 2021 and transported 8,518 patients to an emergency department.
Paramedics are considered to be on offload when they are at the hospital for greater than 30 minutes. Approximately 33 per cent of calls where a patient is transported to hospital in Kawartha Lakes results in an offload time of greater than 30 minutes. In 2021, paramedics spent 726 hours on offload at the Ross, with an alarming increase to 505 hours in the first four months of 2022.
With call volumes increasing, reliance on neighbouring paramedic services has also been increasing. That can result in delayed responses and increased cost associated with cross-border billing agreements. Neighbouring paramedic services responded to 758 calls in 2021, up from 443 in 2020 and 452 in 2019.
Ross Memorial Hospital Emergency Department and Kawartha Lakes Paramedic Services staff have been receiving education and training on the Fit2Sit initiative throughout the month of May to ensure a smooth implementation when the program launches on May 30.
Quotes
"The Fit2Sit program will allow paramedics to return to the community sooner and be available for emergency care, free up stretcher space in our Emergency Room for more seriously injured or ill patients, and allow the hospital to prioritize patients who present to the ER based on the nature of their illness rather than how they arrived."
- Jennifer Chipp-Smith, Emergency Department Manager, Ross Memorial Hospital
"Wait times for patients brought to the Emergency Department by ambulance has become an ongoing challenge, resulting in delays in transferring patients to a hospital bed and tying up paramedics. The Fit2Sit initiative will allow paramedics and hospital staff to safely identify and separate patients transported by ambulance into two groups – those who need immediate care and those who are able to able to sit in the waiting room. We appreciate our partnership with the Ross to continuously look at different strategies to free up resources as call volumes continue to increase."
- Sara Johnston, Deputy Chief, Professional Standards, Kawartha Lakes Paramedic Services
Associated Links
- Kawartha Lakes Paramedic Service Operational Key Performance Indicators
- Paramedic Services Week 2022
-30-
For more information:
Ryan Young
Communications and Public Affairs Officer
Ross Memorial Hospital
M: 705-328-4548