Reflections Café and Gift Shop
Reflections Café and Gift Shop are operated by hospital volunteers and are located in the main lobby.
The Cafe is open Monday to Friday, 7:00 a.m. to 7:00 p.m., and Saturday & Sunday, 9:30 a.m. to 3:00 p.m.
The Café offers breakfast sandwiches and hot and cold cereal, light lunches and dinner items such as soup, sandwiches, macaroni & cheese and stew. Here you'll find both hot and cold beverages, muffins and other baked goods, ice cream, frozen yogurt and more.
The Gift Shop is open Monday to Friday from 9:00a.m. to 7:00p.m., and Saturda & Sunday from 11:00a.m. to 3:00p.m. The Gift Shop carries a full range of gifts, fresh flowers, clothing, jewellery, stationery, reading material, candy, small toys and baby gifts, cosmetics, greeting cards, and much more!
All of the profits generated through the Cafe and Gift Shop are returned to the hospital to enhance patient care. Currently, the volunteers are working at their 5-year, $750,000 pledge to the Imagine the Future campaign, which helped to purchase an MRI and new CT scanner.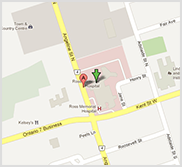 Maps
10 Angeline St. North
Lindsay, ON K9V 4M8
Directions
Floorplans
@RossMemorial
Follow us and stay up to date on news, events and health related issues: