Telephone & Television Rentals

Patients can arrange for telephone and television service by calling an automated service that activates the televisions and telephones. To do this, follow the instructions on the TV screen and on the telephone. Payment is made by credit card. A portion of the rental revenues that are generated is returned to the hospital for patient care services. We thank you for your support.
TV/Phone rental services are provided by Hospitality Network. A portion of the revenue from rental services are returned to Ross Memorial Hospital and reinvested in caring for you!
For information on renting a TV/Phone during your stay, click here or turn the TV on in the patient room and follow the directions.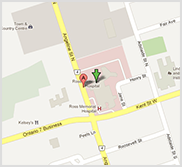 Maps
10 Angeline St. North
Lindsay, ON K9V 4M8
Directions
Floorplans
@RossMemorial
Follow us and stay up to date on news, events and health related issues: