Policies
Infection Control
All visitors entering the Hospital are required to rinse their hands with the alcohol rub available when entering and exiting the Hospital and prior to and after visiting a patient. Alcohol rub dispensers are available throughout the Hospital (Hospital entrances, outside of elevators and on patient floors) for everyone's convenience.
Handwashing is the single most important procedure you can do to help minimize your risk of infection. Be sure to help prevent infections from being spread by washing your hands frequently.
To prevent the spread/transmission of infections to other patients, staff and the hospital environment, it is sometimes necessary to place patients in Isolation Precautions. This may mean relocating the patient to a special isolation room, with an Isolation Precautions sign placed at the entrance to alert all staff, doctors and visitors that they must wear a gown and gloves or a mask (depending on the infection or bacteria).
If a patient is placed in a room marked Isolation Precautions, visitors will be asked to follow the instructions of staff and may be asked to wear a gown, gloves, or mask, depending on the situation. It is important that the gown and gloves or mask are removed before the visitor leaves the room.
When leaving the isolation room, hands must be washed after the removal of gown and gloves (and mask as needed), which prevents the spread of infections into the hospital environment.
These precautions remain in place until there is no risk of the infection spreading to others.
Latex
Due to the risk of latex allergies, latex balloons are banned at the Hospital. As a result, only Mylar (foil) balloons are allowed to be delivered to patients. Visitors should check with their florist before ordering any balloons.
Fragrance
Scented products can contain chemicals which may cause serious problems for people with asthma, allergies, migraines and environmental illnesses. The Ross Memorial Hospital will maintain a smoke and fragrance free policy, and wherever possible, eliminate the use of other hospital products where scent or other properties are known to cause health problems for patients, staff, physicians, volunteers and visitors.
Employees, medical staff, volunteers, and students are asked to avoid the use of perfume, aftershave, scented hairspray and other scented personal products while at work. All hospital employees and medical staff are asked to support this policy, and encourage others to refrain from using such scented products while at the hospital.
The Hospital will communicate with local florists to encourage them to advise customers against ordering highly scented flowers (such as hyacinths, Easter lilies, and eucalyptus) for hospital inpatients.
Smoking
As a healthcare leader in the community, it's the hospital's responsibility to help protect people from preventable diseases that are associated with smoking and exposure to second-hand smoke. All hospital property, including the parking lot, is now 100% smoke-free.
This new policy includes all of the hospital's buildings and grounds, including the cars in the parking lots. Anyone who wants to smoke will have to leave the property. Ash trays will be moved to the perimeter of the property near the sidewalks to help reduce litter on municipal property.
Staff and volunteers will not facilitate smoking for patients. Supervised smoking off site can be provided with the assistance of family or friends. Inpatients wishing to leave RMH property to smoke must sign a Leave of Absence form. When appropriate, nicotine replacement products will be offered to every inpatient who smokes, to help with changes in regular smoking patterns.
If you are interested in nicotine replacement therapy or in finding out more about ways to quit smoking, please talk to your physician or call the Smoking Cessation coordinator at the Public Health Unit at 705-324-3569.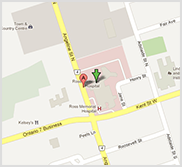 Maps
10 Angeline St. North
Lindsay, ON K9V 4M8
Directions
Floorplans
@RossMemorial
Follow us and stay up to date on news, events and health related issues: