Special Act
The Future of Ross Memorial Hospital and the Special Act
By Veronica Nelson, Interim President and CEO, Ross Memorial Hospital
November 8, 2019
Recently, misinformation has spread throughout our community about the Hospital's Special Act. Specifically, many have expressed concern that changing our Special Act will mean a merger between the Ross and another hospital. Simply put, the decision to update our Special Act is not tied in any way to a merger or transfer of services to another hospital. We do not plan to merge with another hospital. In fact, we plan to expand our services and better coordinate and deliver care with community partners through our City of Kawartha Lakes Ontario Health Team (CKL-OHT).
What is the Special Act?
The Hospital was incorporated through a Special Act of Legislation in 1903, rather than through the Corporations Act – which is the other method of incorporating Ontario Public Hospitals. The Hospital has amended its Special Act three times – in 1954, 1964, and 2000, to adapt to the ever-changing nature of healthcare. The Hospital is approaching the Ontario Legislature to update its Special Act to reflect our current governance model, which has been in place since 2012.
Is RMH planning to merge with another hospital?
No. We are not considering a merger with another hospital, nor are we considering transferring services away from the area.
The language in the proposed Special Act supports the Hospital in operating within the Ontario Government's care model. For example, with the introduction of Ontario Health Teams, which will coordinate and deliver care locally, our structure must provide the flexibility to integrate care and services as our local team evolves.
As a lead partner in the CKL-OHT, we aim to enhance local services and are currently working with the government and our partners to identify gaps in the care available in the City of Kawartha Lakes, and determine how we might work together to address them.
How does RMH engage with the community?
The Ross Board of Governors includes 12 independent, voting community members. Patient and family involvement in decision-making is very important to us. We have included patient, family and community member advisory roles on Board committees and will continue to do so.
We are deeply invested in doing what's right for patients and families. The updated Special Act will support us in our continued delivery of care, while creating flexibility to meet the needs of the community now and into the future.
As we shape the future of the hospital, we will keep care close to home. We will be asking the community for its input on care and services as we develop the CKL-OHT, and along with our partners, we will provide the best care for the residents of the City of Kawartha Lakes.
If you have any questions about the Special Act or how you can get involved in shaping the future of care in our community, please contact me directly at vnelson@rmh.org.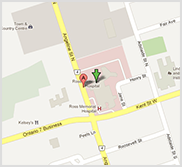 Maps
10 Angeline St. North
Lindsay, ON K9V 4M8
Directions
Floorplans
@RossMemorial
Follow us and stay up to date on news, events and health related issues: